Wed-Sun
Level 2
Under 5s Play Hive
Wednesday-Sunday, 10am-6pm, Free
This area for under 5s celebrates Baltic's journey from a flour mill to our present day as an art gallery. Through play, we invite you to explore our past, present and future.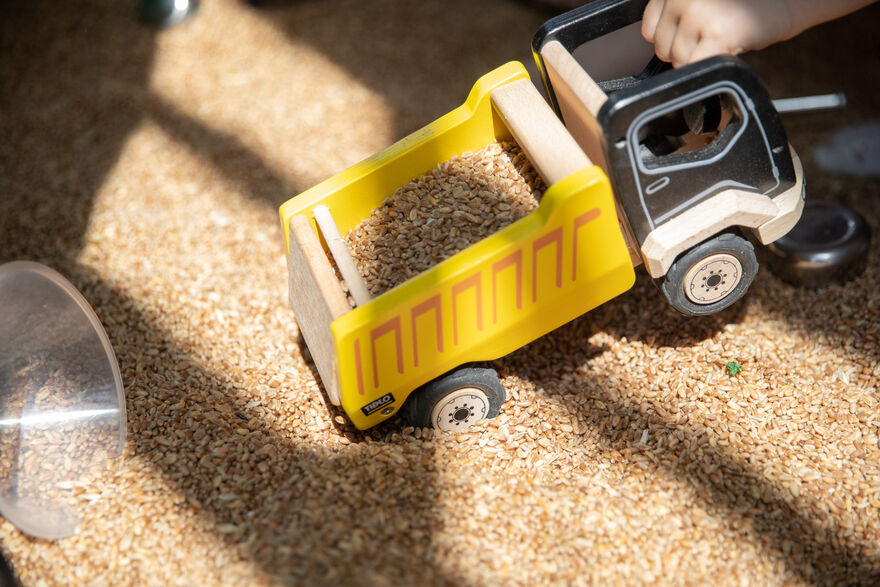 Delve into Baltic's history as a working flour mill in our grain pit. Take inspiration from our position on the Quayside as a place of change and regeneration with our wooden Tyne Bridge and foam building bricks.
Explore our present and all things that make us what we are today in our mini-Baltic role play area.
As we look into the future, we are aware of our impact on the environment and the importance of preserving and protecting the wildlife who make Baltic their home. This includes the Kittiwake birds that nest on our North facing wall, and the bees who live in our roof hives.
Imagine a more sustainable future through our play beehive and consider: what will Baltic look like in 20 years time?
Allergen Warning
Please supervise your children's play at all times.
Please be aware this area contains small parts and uses Wheat (that contains gluten) as a play material.
Grain may also contain Legumes, Poppy Seeds & Mustard Seeds.
Please keep your shoes on in this area, and keep the grain in the grain pit. This is a self-led play area, please help us to keep it tidy. Thank you.