What To Expect:
A Visit To Baltic
Find out what to expect on a visit to Baltic with this Visual Story guide - a guide with words and pictures. It is sometimes called a Social Narrative.
If you have any questions or would like to chat about your visit before coming, you can email us on myexperience@balticmill.com or call us on 0191 478 1810.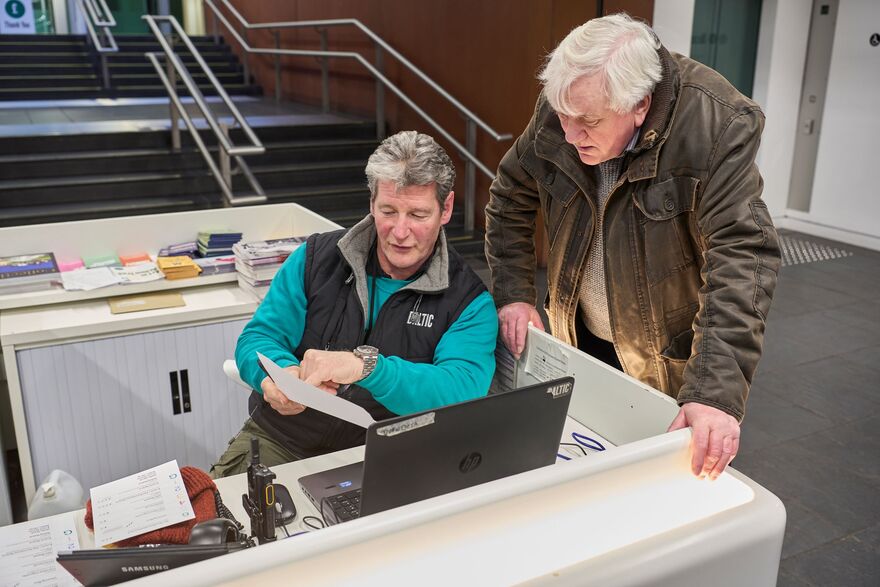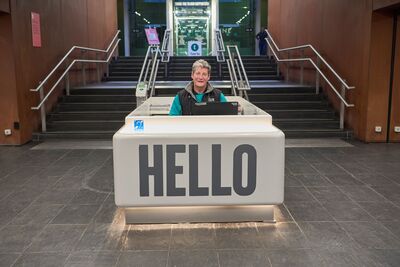 Arriving at Baltic
When you arrive at Baltic, you will enter the building by the main automatic glass doors on Baltic Square.
When you enter the building you will see a member of Baltic Crew sat at a desk with text saying 'Hello'.
They will welcome you to Baltic. It is okay to talk to them.
Baltic Crew may give you instructions while you are inside Baltic. Listen to Baltic Crew and follow their instructions. They are to keep you and other visitors safe.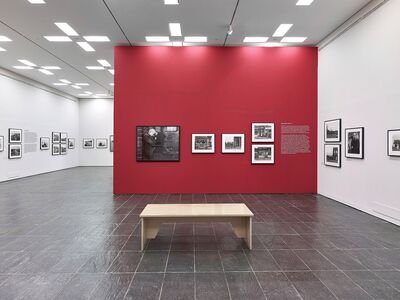 Ground Floor Gallery
As you travel past the glass lifts, you will find Baltic's Ground Floor gallery.
In this gallery is exhibition Chris Killip, Retrospective.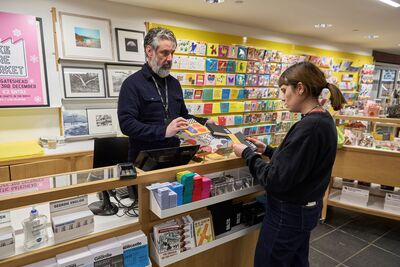 Baltic Shop
Baltic Shop will be open when you visit.
You will enter through a level access open doorway.
The items you can purchase are displayed on shelves and tables.
There is background music in the shop, which is played at a moderate level and can be switched off by staff. Please let us know if you would like us to turn the music off.
If you buy anything in Baltic Shop, contactless and card payments are preferred.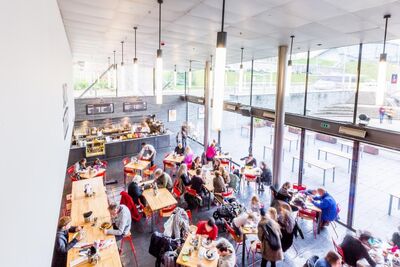 Baltic Kitchen
This area is our cafe space, where you can purchase hot drinks, snacks and sandwiches.
There are large hanging plants from the ceiling and large doors leading out onto the patio.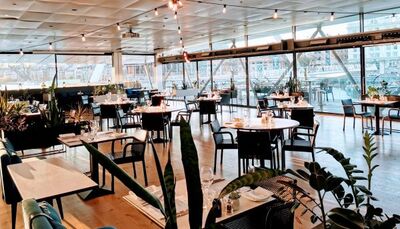 Front Room / Baltic Riverside
This is our Front Room picnic and seating area.
Baltic Crew will welcome you to Front Room.
Front Room has tables and seating.
You can eat your own packed lunch here if you wish to bring it on your visit.
You can have a free tea, coffee or juice in Front Room. You do not need to pay for this, but donations are welcomed.
Pastries and traybakes from a local supplier may also be available to purchase. Ask a member of Crew for more information.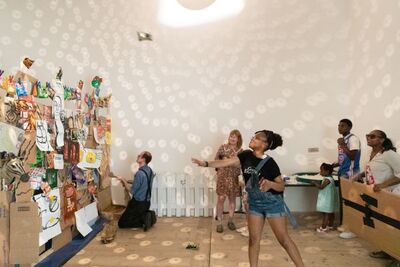 Level 1
This is our events space. It is usually closed to visitors unless we have a special event on.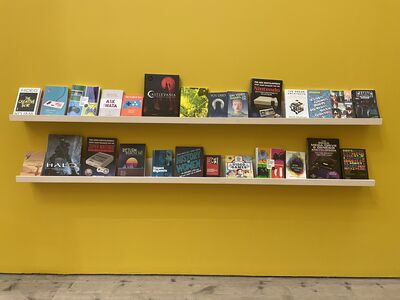 Level 2 Gallery
Baltic's Level 2 Gallery opening Saturday 20 May, is a Gaming Room by artist Larry Achiampong.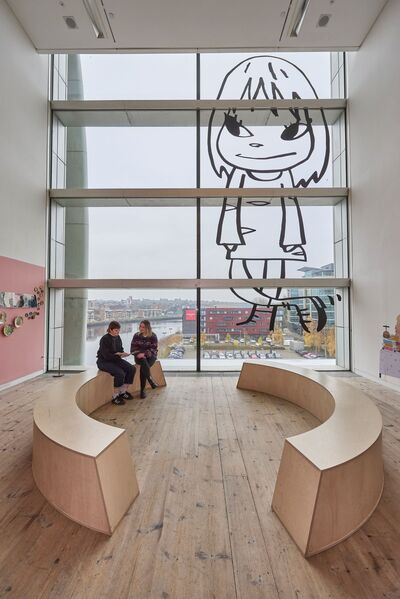 Baltic's Learning Lounge
Baltic's Learning Lounge is on Level 2.
When you arrive on Level 2, follow the corridor to the left. There will be a Crew member standing close by. You can ask them for directions.
The Learning Lounge is a fun and informal learning space where you can chat, rest, learn and play.
Baltic's Learning Lounge has soft seating, a table and chairs and wipe-able matting.
At the far end of Learning Lounge, is Play Hive, an area for under 5s.
Allergen warning. Please be aware that this area contains small parts and uses Wheat (that contains gluten) as a play material. Grain may also contain, Legumes, Poppy Seeds & Mustard Seeds.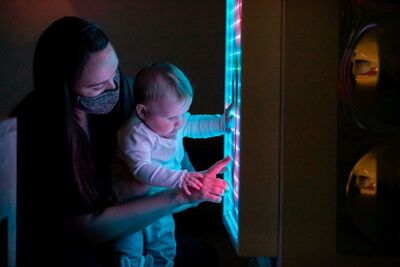 Baltic's Sensory Room
Baltic's Sensory Room can be found on Level 2 inside the Learning Lounge, on the left-hand side.
The door to the Sensory Room will be open.
A member of Baltic Crew can direct you to this door.
This is a quiet space to play and explore with sensory toys, projections and lights.
Inside the Sensory Room there are two sets of fibre optics, a bubble tube, a light table with coloured shapes, projector, two large light-up orbs and cubes.
There is also a sofa, two large soft shapes and wipe-able matting.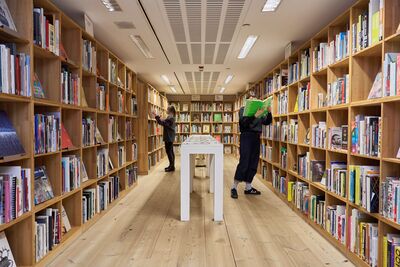 Baltic Library
Baltic Library can be accessed via a glass door in the Learning Lounge on Level 2.
It is an informal research space that has a specialist collection of books and materials.
There are both standing and sitting desks.
Free wi-fi is available here, you can connect on your own device or use the iMacs available. There is also a photocopier/scanner you are welcome to use.
Under 16's must be supervised by an adult within this space.
Baltic Library is reference only, please do not remove the books or magazines from this space.
Please do not bring any food or hot drinks into the Library, drinks from bottles with secured lids are fine.
Access to Baltic Library may be challenging for some visitors due to the lack of a button operated door, and smaller areas for mobility. We are aware of this and working towards a resolution. Please chat to a member of BALTIC Crew, Call 0191 478 1810 or email myexperience@balticmill.com for any more information about this.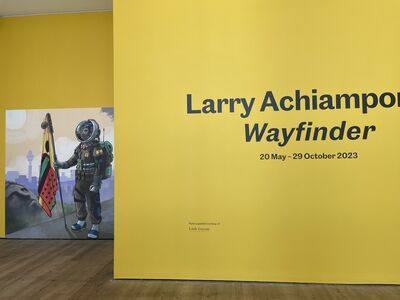 Level 3 Northumbria University Gallery
Baltic's Level 3 exhibition opening Saturday 20 May is Wayfinder by artist Larry Achiampong.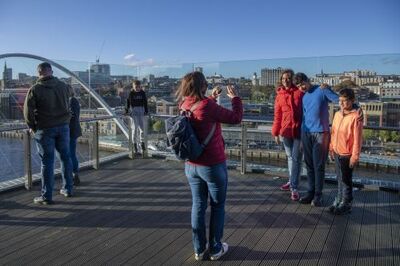 Level 4 Outdoor Viewing Terrace
On Level 4 you can access the Outdoor Viewing Terrace.
This is an outdoor space that has views over the Quayside.
There is glass all the way around the terrace, so that you can see the views safely.
If you visit on a very windy or rainy day, the terrace may be closed for your safety.
There is a hand sanitising station on the wall by the door to the terrace. You can use this before or after visiting the terrace.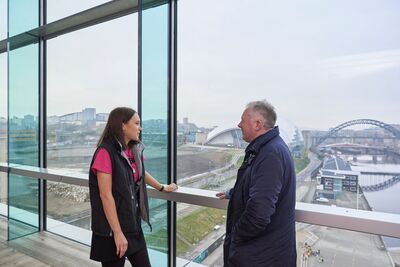 Level 5 Viewing Platform
As you exit the lifts on Level 5, you will initially be on a balcony which overlooks Baltic's Level 4 gallery.
There may be a Baltic Crew member on this floor, they are there to help and assist you.
Once you have travelled around the lift, you will be able to experience views of Newcastle Gateshead through a large glass window.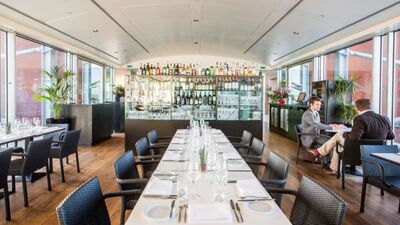 Six Restaurant
As you exit the lifts on Level 6, you will be in Six Restaurant.
The restaurant is surrounded by floor to ceiling glass windows, displaying views across NewcastleGateshead.
There will be a member of staff to help and assist you. It's okay to speak to them.
Six opening times, pre-booking and menus can be found here: www.sixbaltic.com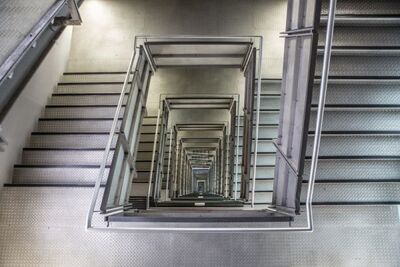 Travelling around the building
We have glass lifts and a staircase to travel around the building. You can use which is most comfortable for you.
The lifts are glass and you can see views over Newcastle Gateshead.
If you would like to use a lift but do not like glass lifts please chat to Baltic Crew. They will find an alternative for you.
You can travel both up and down the staircase. Please stay on the left hand side when using the staircase.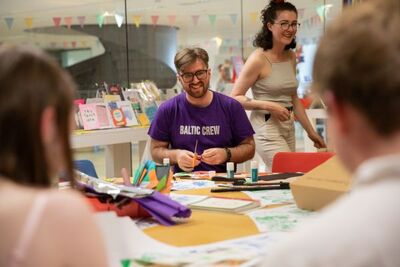 Facilities
Toilets including accessible toilets will be open on the Ground Floor, Level 2, Level 3 and Level 4.
Baby changing facilities are available to use on the Ground Floor and Level 2.
There is increased cleaning of the toilets, as well as other areas of the building. You may see Baltic cleaning staff around the building on your visit.
Wheelchairs and scooters are available on request. Please chat to Baltic Crew if you would like to use these.
Lockers are available. You can use the lockers to store items such as bags and coats during your visit. Our lockers cost £1. The lockers are emptied at 17.55 every day. Items cannot be left overnight.
You will exit Baltic through automatic glass doors at the front of the building. This exit will take you out onto Baltic Square.
You can find more details about Baltic's facilities here.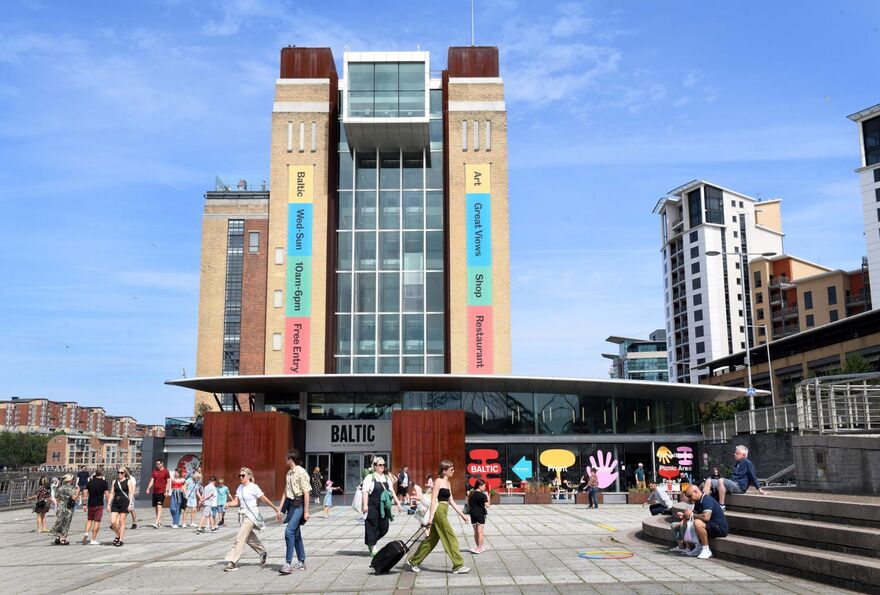 Plan Your Visit
Baltic and Baltic Shop are open Wednesday - Sunday, 10am-6pm. Drop in for free, no booking required.
Read More