Baltic Crew
Our amazing Baltic Crew are positioned right across the building and are there to make sure you get the most out of your visit.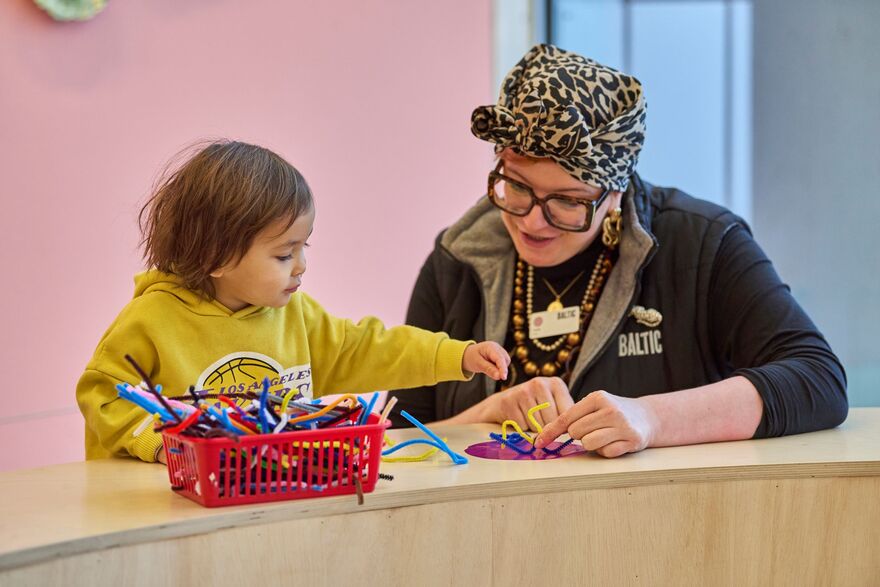 Baltic Crew are on every floor and can chat to you about what we do and what we are exhibiting.
They are friendly, approachable, ready to chat and are great at giving advice so please use them for information and a fantastic insight into the exhibitions (especially if text panels & leaflets aren't your thing).
Any queries you have can be directed their way. If you're intrigued to know more about an exhibition, from how an artist made their artwork to why they used a particular material then feel free to approach them. If you feel you could benefit from the exhibitions being adapted for your visit, mention this to our Baltic Crew and we'll see what we can do to make you comfortable.
Wondering how to get to town? Or where to grab lunch?
Our Crew are super knowledgeable and will be able to recommend and direct you to local destinations you have pinned on your travel map.
Exhibition Spotlight Tours
Join one of our daily Spotlight Tours with Baltic Crew at 11.30am, 1.30pm & 3.30pm where Crew share their insights on the themes, concepts and ideas presented in the exhibitions. The tours are informal and Baltic Crew share great insights into the artworks on display and the building itself.
Ask at the Hello Desk for further information on where to meet, or listen out for the announcements. If you miss one of the tours or the times don't work for you then you can get the same insights and information on each exhibition by speaking to Baltic Crew in each gallery.
Our crew also present the Baltic Spotlight videos which can be viewed online or in our Level 2 Learning Lounge. In the video below, Baltic Crew member Meghan, leads a short tour of Carolina Caycedo: Land of Friends.