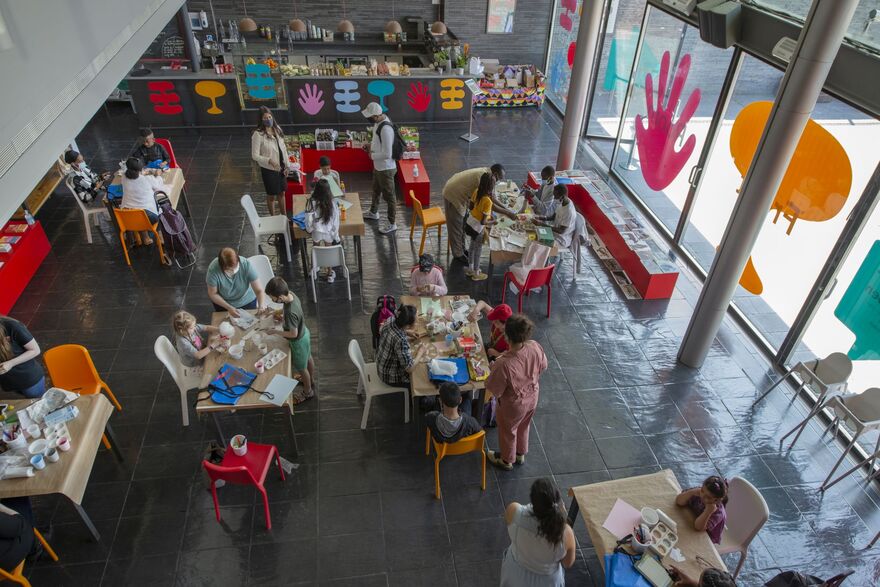 Wednesday–Sunday, 10am-6pm, Free, Drop-in
From our Front Room to yours, come together and enjoy a warm welcome, a hot drink and kind conversation.
Connect to our free wi-fi, check the community noticeboard and meet up with friends over a cuppa. This is your free space to pause and have a chat. Take a seat, eat your own packed lunch here or enjoy a free hot drink or squash. There's no pressure to move on after a certain time.
Traybakes, sweet treats and sandwiches are available to buy in Front Room from Big River Bakery, a community bakery based just across the river in Shieldfield, Newcastle.
We are a Warm Space
As part of Gateshead Council's Warm Spaces Network, Baltic and Sage Gateshead are opening our doors to the public, no questions asked, to support our local communities through the harsh winter months.
We have signed up to the Warm Spaces charter, which was developed in collaboration with the Gateshead Poverty Truth Commission. The charter guarantees that everyone who visits a Warm Space will be welcomed.
As annual energy bills for a typical household rise by about 27%, despite the Government's renewed price cap promise, for many families and individuals across Gateshead, this cost – alongside the rising cost of food and other essentials– remains simply unaffordable.
Offering free entry to the building, refreshments, and areas for work and play, the Warm Spaces initiative is made up of venues, libraries, town halls, sports clubs and community centres across Gateshead. Members of the local community will be greeted with a warm welcome and treated with dignity and respect in a non-judgemental environment. Sage Gateshead and Baltic are also offering free Wi-Fi and charging spots and Pay What you Can tea and coffee. Both venues have baby changing facilities and accessible toilets.
Hot drinks in Front Rom at Baltic are kindly supported by Pumphrey's Coffee.
We are a Gallery of Sanctuary
Awarded in 2022, our Gallery of Sanctuary status recognises our efforts in supporting sanctuary seekers, raising awareness of forced migration and celebrating cultures.
The title, the first Gallery of Sanctuary in England, was awarded by City of Sanctuary UK, a nationally coordinated network of organisations and services, including cities, universities, theatres and libraries that welcome and support refugees and people seeking asylum. City of Sanctuary's Awards recognise and celebrate organisations that go above and beyond to welcome people seeking sanctuary. Appraised by a panel including someone with lived experience of seeking sanctuary and an expert in the field, the awards rewards good practice and progress within a sector.
Accessibility Information
Front Room is an area to relax and have refreshments.
Front Room is located on the lower ground floor, with level access from Baltic Square, and the floor is level throughout, in dark grey slate.
Front Room is well lit by fluorescent tubes and natural light.
There are automatic doors into the Front Room.
Front Room offers counter & table service, whichever suits you best. Baltic Crew will welcome you and offer you free drinks and snacks
Here you can eat your own packed lunch.
There is room for pushchairs and wheelchairs to manoeuvre around the tables, and Baltic Crew are on hand to help if any assistance is required.
High chairs are available in Front Room.