For Young People
For the talent of the future, our Young Creatives programme is designed to nurture young people's creativity, provide opportunities to explore different artforms and perspectives, build social bonds and enable progression.
We value young people's creative voices and look for authentic ways to platform the work of young artists who engage in Baltic's Young Creative programme.
We inspire creative potential through three programme strands: Art Mix, Young Producers and Foundation Club.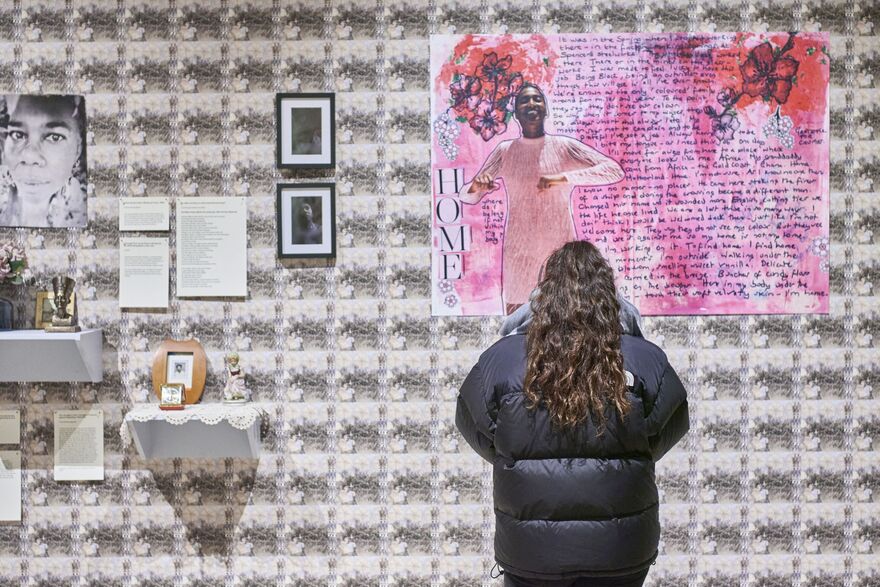 Annabelle Blackett
The Heart of Bernicia
Annabelle Blackett's work considers architectural elements of the British landscape. Her research-based practice explores prehistoric art forms of Neolithic and Bronze Age cup and ring marks. The form of these ancient artworks is often reflected in her paintings and collages.
Blackett's lightbox The Heart of Bernicia (2022), installed in Baltic's entrance space, is inspired by aspects of the religious life in Northumbria, comprising elements from the Neolithic era, the ancient kingdom of Bernicia and of Christian Northumbria. Cup and ring marks are located around the landscape and include those found at Lordenshaw, Doddington Moor, and Roughting Linn. The marks appear through history as symbols of solar worship, fertility, astronomical calendars, and as symbols of life and the afterlife. The North East is also rich in Christian symbolism. The arch depicted in the artwork is of a cloister in Durham Cathedral. The lightbox was created using drawing and print techniques such as screen-printing and lino printing. Blackett was commissioned to make a new work for display at Baltic as part of her Foundation Club Residency.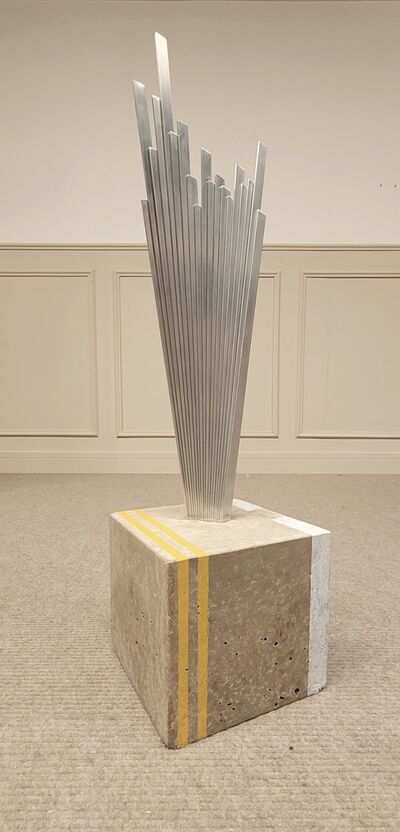 Cameron Lings
Repercussions
Cameron Lings makes sculptures that draw from bodies of statistics and data sets. His work explores key topics around current affairs and issues regarding the environment. He uses materials such as wood and metal to make layered sculptural forms.
Lings's sculpture Repercussions (2023) is made with acrylic, aluminium and concrete, and sits centrally in Baltic's Level 4 Viewing Platform. The work has been created using data sets from the monitoring of air pollution on and around the Tyne Bridge (Gateshead side). It visualises this in sculptural form, following the ebb and flow of data from January 2022 to January 2023. A neighbouring graph shows the exact data collected and the peaks in pollution during this period. The paint on the surface of the sculpture is vulnerable and unprotected, and, subject to the elements; it will gradually fade over time. The sculpture is a timely reminder of how our environment can be influenced by our actions and how nature has the power to transform. Lings was commissioned to make a new work for display at Baltic as part of his Foundation Club Residency.