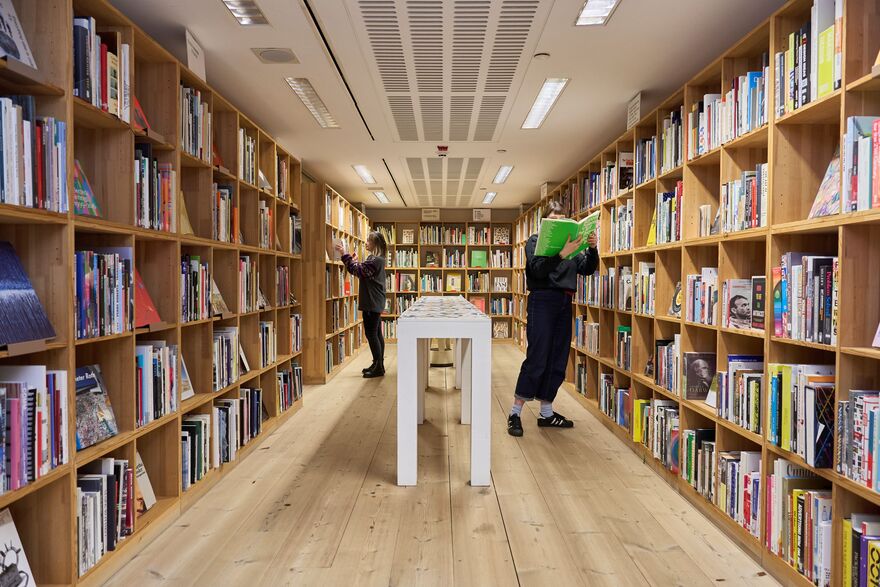 Wednesday – Sunday, 10am-5.45pm
Free, Drop-in
Our Library is an informal reference library and research space housing a specialist collection of over 13,000 books on contemporary art and visual culture.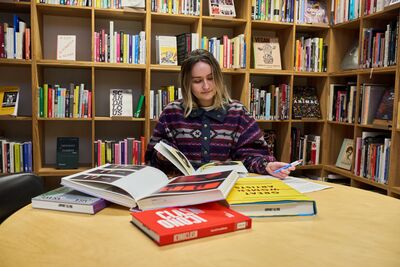 Free public wi-fi is available in our Library for accessing the online catalogue and digital archive, containing thousands of images, documents, videos and audio recordings about our exhibitions. Bring your own laptop or device and connect to the wi-fi or feel free to use one of the three iMac's in the library. There is also a photocopier/scanner which is free to use, donations welcome.
Our Library is the perfect place to study and research, grab a seat at one of the tables and get stuck into one of the many exciting and informative books at Baltic.
If you have specific access needs or would like help to use the Library, you can make an appointment for a supported visit, available on request by email to archive@baltic.art
If you have an enquiry about an educational group booking to our Library please email schools@balticmill.com to discuss options.
Tips & Tricks
● Under 16's must be supervised by an adult.
● We have so many books. Search and browse for books using our online catalogue: balticplus.uk. Within each book record there's a shelf location, which tells you where in the Library the book is located, so you can find your favourites faster. Our Library is reference only, meaning the books or magazines should only be enjoyed within the library space and can not be borrowed.
● There are lists of categories and subjects on the wall and on top of the shelves to help you find your way around.
● We have a Zine and Artists' Books collection which can be viewed by appointment. If you would like to access magazines or other material in our archive collection please make this request at least 72hrs in advance by emailing archive@balticmill.com
● Books and drinks don't mix. If you have food or hot drinks, please consume these in Front room. Drinks from bottles with secured lids are permitted.
● Connect to the wi-fi and bring your own laptop. Please be aware that Internet use is monitored, and we reserve the right to ask anyone to leave if viewing inappropriate content.
● We're sure your holiday pictures are lovely, but please don't download or transfer any personal data or images to the Library public computers. Use of flash drives, memory sticks and cards is restricted in line with our responsibility towards your data protection.
● Please don't leave any of your belongings unattended in the Library, we don't want them.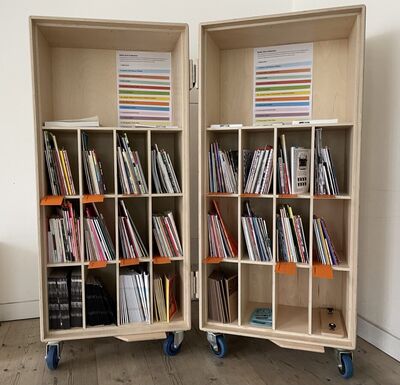 Zine Library
Baltic also has a Zine Library with a growing collection of over 500 artists' zines. You can visit the Zine Library on the first weekend of every month (Fri-Sun) inside Baltic's main Library space, or by arrangement at other times by emailing archive@balticmill.com.
Library Accessibility
Baltic Library is located in the Learning Lounge on Level 2. We offer standing and sitting desks. If you need help or support, please speak to a member of crew.
Access to Baltic Library may be challenging for some visitors due to the lack of a button operated door smaller areas for mobility. We are aware of this and working towards resolution, please chat to a member of Baltic Crew, Call 01914781810 or email info@Balticmill.com for any more information.