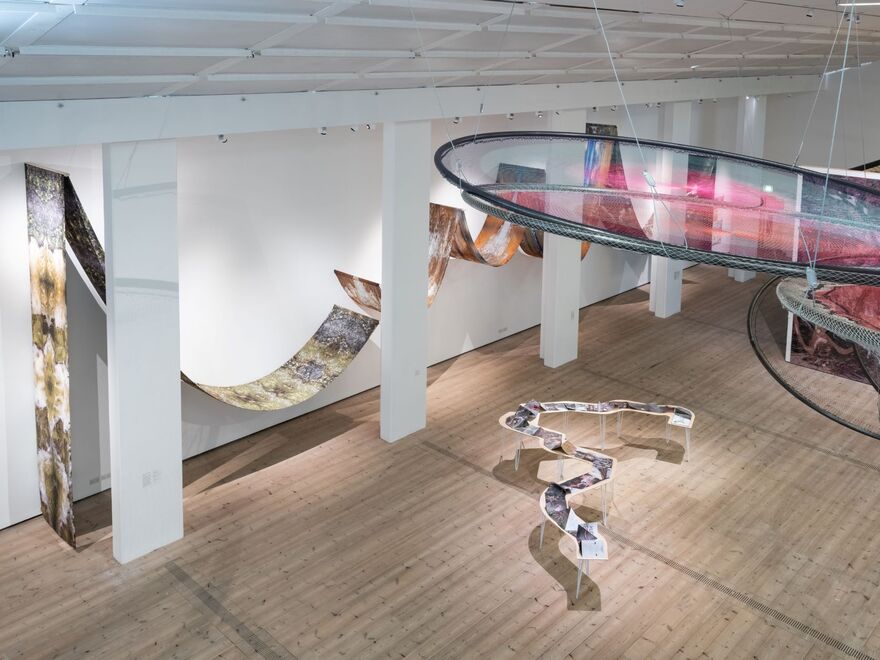 Through her studio practice and fieldwork with communities impacted by large-scale infrastructure and other extraction projects, she invites viewers to consider the unsustainable pace of growth under capitalism and how we might embrace resistance and solidarity.
Process and participation are central to Caycedo's practice, bringing a collective dimension through performances, photographs and videos. Her work contributes to the construction of environmental memory as a fundamental space for climate and social justice. It challenges us to understand nature not as a resource to be exploited, but as a living and spiritual entity that unites people beyond borders.
For Caycedo's first survey exhibition in Europe, Baltic presents an overview of her artistic practice over the past twenty years, alongside a new commission inspired by the River Tyne, which expands her ongoing River Book series. The exhibition features work from major series including Be Dammed (2012–ongoing), a multimedia project that examines the impact of hydroelectric dams and other major infrastructure projects on communities and the environment.
Mamo Pedro Juan, an Elder from the Santa Marta mountains in Colombia, told me that my planet is my mother's body, it is the sacred territory where I come from, where the rivers are the veins and the water is our blood." There is a phrase in Spanish: poner el cuerpo (giving your body) which means not just to talk, think or desire, but to be present and involved. In the case of Caycedo, she is putting her whole being in action in an effort to preserve the natural world.
Sounds and Colours
Exhibition Accessibility
Our friendly and knowledgeable Baltic Crew team can interpret the artworks and help bring meaning and understanding to the exhibition.
Sound or light levels – can be adjusted.
Folding seats – ask Baltic Crew or pick up a stool from the racks.
Free exhibition tours - chat to Baltic Crew to find out when the next tour takes place.
For our full building accessibility and facilities information visit here