An artist rather than an activist
An artist rather than an activist, insists Carolina Caycedo, but she's no less effective for that. As her first major UK exhibition opened at Baltic, she told David Whetstone about her life and work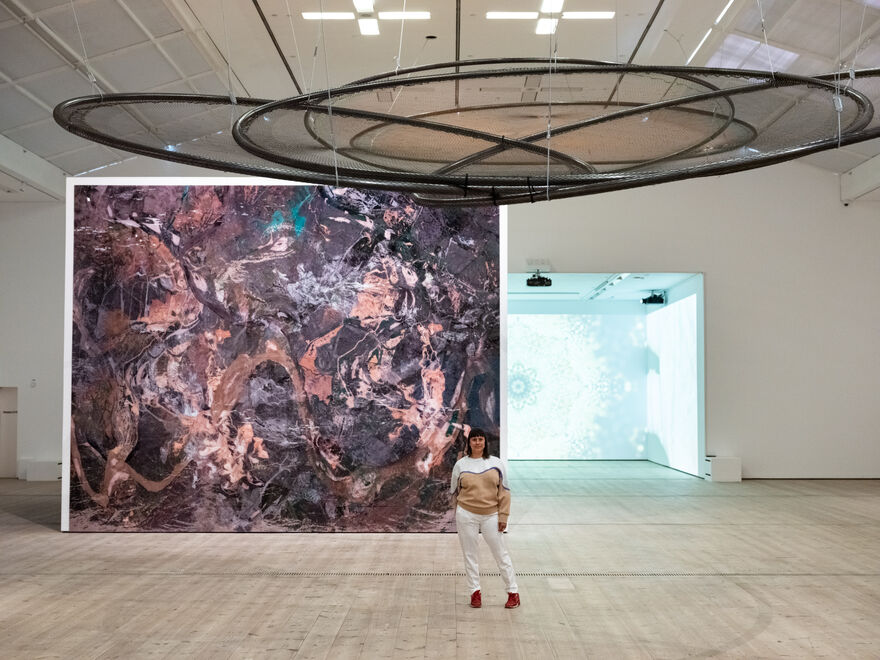 Yards away from where Carolina Caycedo is talking about big rivers and the things we do to them, the Tyne is swirling and eddying towards the sea, as it has done seemingly forever.
The artist knows that the river flowing past Baltic's Riverside Terrace café has given Tyneside its identity through shipbuilding and fishing and in many other ways.
Commissioned by Baltic to create a new piece of work, Carolina researched the area and talked to locals before making Tyne Catchment, a colourful and fantastically busy drawing of the river and the areas around it.
You could stand in front of this epic creation for many minutes and not see everything.
Historical references such as a ship launch and herring girls are jammed in with quirky allusions to myth and folklore. The Tyne, it'll make you think, is more than just a river.
Carolina used coloured pencils, she says, because she wanted it to appeal to children… and to give the impression anyone could have done it.
Anybody, in fact, can own a piece of it since a section has been turned into a poster which is on sale in the Baltic shop.
Internationally Carolina has become known for her work about rivers and the threats posed to them. Rivers, she contends, are "the veins of the planet, living entities that connect communities and ecosystems".
In her Baltic exhibition, the first major survey of her work in the UK, rivers are variously represented.
Draped in an undulating fashion above head height are examples of her Water Portraits series, abstract photos of the Wanawana in Nicaragua and the San Gabriel in California printed on broad ribbons of cotton silk.
The Cauca River in Columbia is the subject of Patron Mono, the artist's three-channel video film made in 2018. To position yourself so the films run on three sides is to be submerged in glittering depths.
Attribute the glitter to the gold sought by artisanal miners whose livelihoods are threatened by a controversial hydroelectric dam.
Patron Mono (Blond Boss) is the nickname given to the river by those for whom it is a Tyne equivalent and whose world has been changed by the massive infrastructure project.
Look up and you'll see Carolina's representations of the circular fishing nets used by generations of riverside dwellers before communities were displaced or torrents reduced to a trickle.
Names can tell us an awful lot.
A two-channel film dating from 2013 is called Spaniards Named Her Magdalena, But Natives Call Her Yuma.
In the native language Yuma means Land of Friends, which is the title Carolina chose for her Baltic exhibition.
The river's name was changed by the colonising Spanish in 1501 but the original survives as a colloquial reminder of its sustaining qualities.
Carolina says the environmental slant of her work began in 2012 when she learned of the impact of the gargantuan El Quimbo Dam going up as part of a hydroelectricity scheme on the Yuma/Magdalena.
It sparked her ongoing Be Dammed project which has seen her engaging with affected communities and experts to counter claims made by the government and multinational companies.
To begin at the beginning, though... Carolina Caycedo was born in London to Colombian parents. She identifies as Colombian, she says, but has relatives in London who travelled north for her Baltic opening.
When I was six, in 1984, we returned to Colombia but as soon as I graduated from art school I came back to London as an emerging artist.
"I lived there from 2000 to 2005 and I remember very well when Baltic opened because it was a huge thing in the arts.
"It was also part of this wider European movement that was recycling industrial buildings into art spaces.
"I remember dreaming of being able to show here one day."
That day dawned when she was approached by Irene Aristizábal, Baltic's head of curatorial and public practice, who had championed her work in her previous role at Nottingham Contemporary.
Carolina's work, she knew, aligned with Baltic's mission to aid greater understanding of the world through inspiring art and its particular interest in issues around the environment and justice.
A Carolina Caycedo exhibition would be timely, too.
Forty years ago the Queen opened Kielder Water, the country's most capacious reservoir (44 billion gallons) which entailed the construction of a large dam, the displacement of people and the loss of farms.
Now very much an artist of the world, Carolina speaks passionately and knowledgeably about projects that dwarf Kielder and whose relative benefits are much more questionable.
Fifteen more "mega-dams" are planned to follow El Quimbo on the Yuma/Magdalena, she says, further disrupting nature and people's lives.
As with many infrastructure projects we've been fed a lot of lies. Hydroelectricity is seen as clean energy but the truth is that the social and environmental impacts of building large dams sometimes surpass the benefits.
"The narrative around dam building has been so monopolised by the people who are building them."
She cites a chilling scientific report warning of the potential of dam proliferation to affect the Earth's axis through the combined mass of water and concrete.
Carolina says she had to leave London where she found it hard to be taken seriously as an artist, feeling herself an immigrant despite her British passport.
In 2005 she went to Puerto Rico on an artist's residency and spent seven years there, with brief time out in New York. She moved to Los Angeles in 2011 to pursue a master's degree and stayed.
Learning about the hydroelectric dam being built on the Yuma/Magdalena was a turning point.
"I had lived as a teenager on the river's banks, a little further upstream from where the dam was being built.
"I'd been living outside Colombia but was longing to reconnect to issues in the country and I always say that the river called me. It was a call to visit again and start doing fieldwork in the region."
Call Carolina an activist and she will reject the description.
"I'm not exposing myself in the front line. Activists get killed and it sometimes seems that only if you're an activist do you have any agency to do things and that's not true.
"All of us can change things and push for justice and dignity. My role as an artist is to bring awareness. As you get better known you get more access to spaces and resources.
Museums and galleries are spaces where important issues need to be discussed and where empathy and solidarity can be generated in a way that maybe can't happen in a courtroom.
"Art is so important. We need to feed the soul because the struggle is so hard."
Before the environment consumed her, Carolina focused on social issues and "things that have affected me as a woman of colour and a young mother and a cultural worker".
She was delighted to meet the Women's Banner Group who earned the right to carry banners acknowledging women's work at the Durham Miners' Gala.
Their banners are in the exhibition along with footage of their exploits by Amber Films. Close by is Carolina's frieze of portraits of women activists, My Feminine Lineage of Environmental Struggle.
What we see here, though, is a fraction of her work. Unseen is her "spiritual fieldwork", the information gathering among communities which sometimes involves a performative element not intended for an audience.
An interesting exhibit is a film she made in London in 2003 during the rally against the Iraq invasion. Resolutely facing the stream of protesters, we see them divide and flow past as water skirts a rock.
Nature, society, kinship… all, this exhibition tells us, are as tightly and intricately enmeshed as those hoop nets overhead. And water sustains everything.
Land of Friends can be seen on Level 4 at Baltic until January 29, 2023.