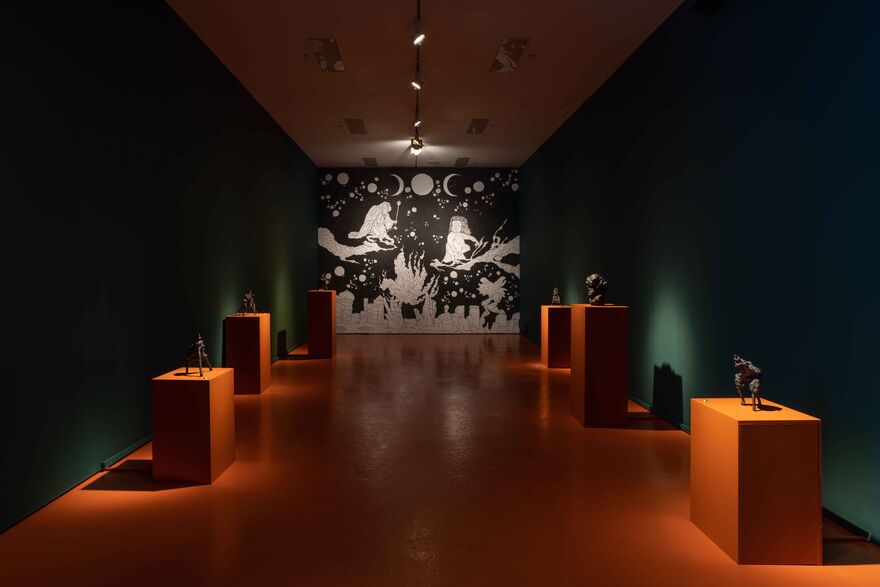 These mythscapes are filled with sculpture, performances, illustration, and artificial intelligence, which transform and expand as you explore and interact with it. Come and find out for yourself in the latest in our ongoing exhibition series exploring play.
Sahej Rahal is primarily a storyteller. He weaves together fact and fiction to create counter-mythologies that question narratives shaping the present. His myth-world takes the shape of sculptures, performances, films, paintings, installations, and AI programmes. He draws from various sources ranging from legends to science fiction, creating scenarios where beings emerge from the cracks in our civilisation.
Mythmachine comes from the future and will transform and expand in response to players. It is a site for the rehearsal of cohabitation between human and non-human systems through speech, song and rhythm.
Rahal's participation in group and solo exhibitions includes the recent Gwangju Biennale, the Liverpool Biennial, the Kochi Biennale, the Vancouver Biennale, MACRO Museum Rome, Kadist SF, ACCA Melbourne, CCA Glasgow. He is the recipient of the Cove Park/Henry Moore Fellowship, Akademie Schloss Solitude Fellowship, the Sher-Gil Sundaram Arts Foundation Installation Art Grant, the Digital Earth Fellowship, and the first Human-Machine Fellowship organized by Junge Akademie ADK. His exhibition Ancestors is currently on view at the JNAF gallery in the CSMVS Museum in Mumbai.
Exhibition Accessibility
Please note: Some of the interactive sculptures in this space have a high magneticfield. Pacemakers and other similar implanted devices may be affected. Please chat with Baltic Crew if you have any queries.
Our friendly and knowledgeable Baltic Crew team can interpret the artworks and help bring meaning and understanding to the exhibition.
Sound or light levels – can be adjusted.
Folding seats – ask Baltic Crew or pick up a stool from the racks.
Free exhibition tours - chat to Baltic Crew to find out when the next tour takes place.
For our full building accessibility and facilities information visit here