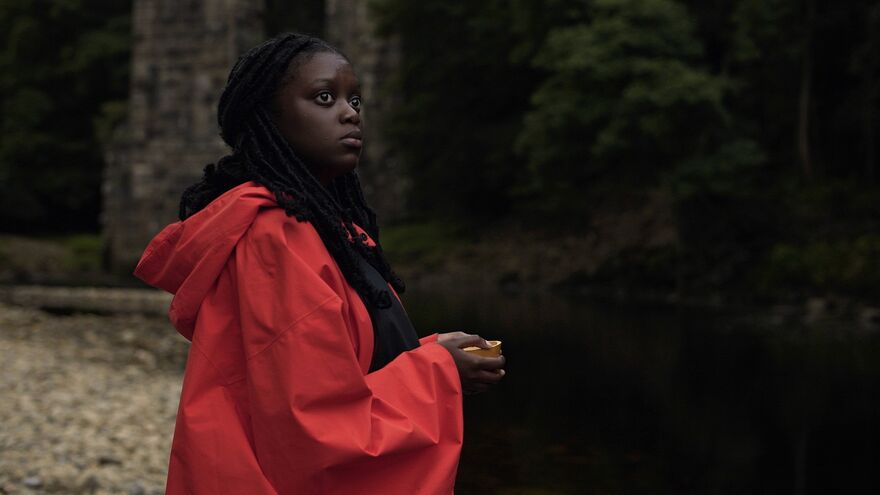 In May 2023, Baltic will present the first major solo exhibition by British-Ghanaian artist Larry Achiampong. Working in film, sculpture, installation, sound, collage, music and performance, Achiampong draws on his shared and personal heritage to explore class, gender, the intersection between popular culture and the residues of colonisation. His work examines digital identities and constructions of 'the self', offering multiple perspectives that reveal the deeply entrenched inequalities in our society.
The exhibition in our Level 3 gallery will include the commissioned feature-length film Wayfinder (2022) which follows a young girl's intrepid journey across England, from Hadrian's Wall in the North to Margate in the South, and the people and places she encounters. Set in a pandemic, Achiampong's most ambitious film to date considers class and economic exclusion, belonging and displacement, cultural heritage and the meaning of home. Other works include the largest UK presentation of the artist's multi-disciplinary Relic Traveller project (2017–ongoing) alongside sculpture, photographs, video and a gaming room.
The exhibition has been organised by Turner Contemporary with MK Gallery and Baltic Centre for Contemporary Art. The film Wayfinder has been commissioned by Turner Contemporary with MK Gallery and Baltic.
Biography
Larry Achiampong lives and works in London and Essex. He completed a BA in Mixed Media Fine Art at University of Westminster in 2005 and an MA in Sculpture at The Slade School of Fine Art in 2008. He has exhibited, performed and presented work within the UK and internationally. Recent projects include commissions with Liverpool Biennial (2021); The Line, London (2020); De la Warr Pavilion, Bexhill-on-Sea (2020) and Art on the Underground (2019/2022). Recent solo exhibitions include Relic Traveller: Where You and I Come From, We Know That We Are Not Here Forever, Phi Foundation for Contemporary Art, Montreal (2021); When the Sky Falls, John Hansard Gallery, Southampton (2020); Pan African Flag For The Relic Travellers Alliance & Relic Traveller, Phase 1, 019, Ghent (2019); Dividednation, Primary, Nottingham (2019) and Larry Achiampong: Relic Traveller – Sank0fa, Eastside Projects, Birmingham (2018). Achiampong is a recipient of the Stanley Picker Fellowship (2020), the Paul Hamlyn Foundation's Award for Artists (2019), and is a Jarman Award nominated artist (2018/2021).