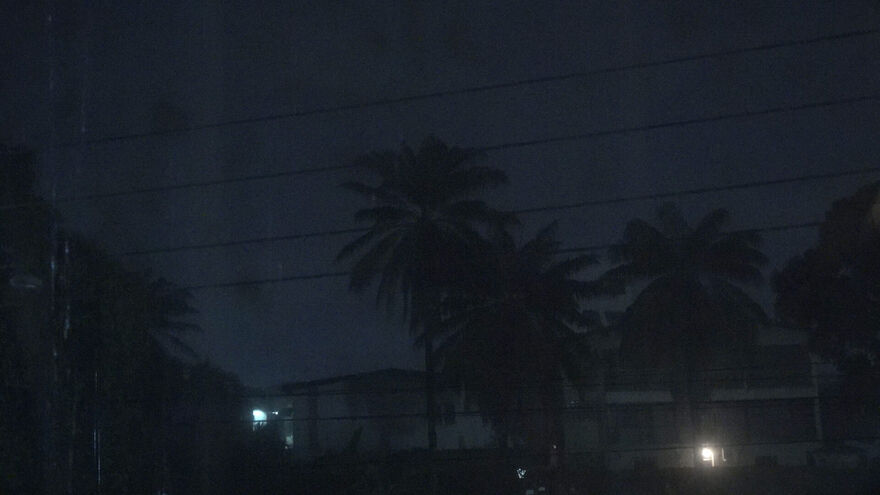 Show Me The World Mister is an exhibition by Ayo Akingbade comprising two new film commissions. The Fist and Faluyi (2022), both shot on location in Nigeria, are distinct but interconnected works build upon Akingbade's interest in history, place-making, legacy and power.
The Fist is a study of the first Guinness brewery built outside of Ireland and the UK, located on the outskirts of Lagos. Completed in 1962, in the wake of Nigeria's independence from Britain, it is a place where histories of industrialisation and labour collide. Shot on 35 mm, the film follows the comings and goings of workers and their tasks on the assembly and packing lines. Akingbade draws attention to the deep-rooted politics embedded in the production of this popular drink.
Faluyi follows the protagonist, Ife on a journey tracing familial legacy and mysticism in ancestral lands. Shot on 16 mm in the Idanre Hills – a UNESCO World Heritage site in Ondo State, the birthplace of Akingbade's parents – the film explores the artist's personal relationship with Nigeria. Panoramic views of bouldering hills surrounded by dense woodland form the backdrop to this sensitive tale of longing and loss, which eventually turns to hope and celebration. The two films are presented in the gallery divided by a strcture made of aluminium, steel and polycarbonate that resembles the infrastructure of the Guinness factory itself.
Both works are co-produced by Chisenhale Gallery, London, and Spike Island, Bristol, and commissioned by Chisenhale Gallery; Spike Island; the Whitworth, The University of Manchester; Baltic Centre for Contemporary Art, Gateshead; and John Hansard Gallery, Southampton. Following the presentation at Baltic, the work will be exhibited at the Whitworth, The University of Manchester.
The commission and its acquisition by the Whitworth, The University of Manchester collection, are made possible with Art Fund support. With additional support from the Chisenhale Gallery Commissions Fund and WEVAA (West of England Visual Arts Alliance).
About Ayo Akingbade
Akingbade works predominantly with moving image, addressing notions of power, urbanism and stance. Interested in the fluid boundaries between the self and the other, she gathers local and cultural experiences in intimate and playful interpretations.
Ayo Akingbade is an artist, writer, and director based in London. Selected screenings and exhibitions include: A Glittering City: Ayo Akingbade with Duchamp & Sons, Whitechapel Gallery, London; An Infinity of Traces, Lisson Gallery, London (both 2021); Towner International Biennial, Towner Art Gallery, Eastbourne (2020); No News Today, Institute of Contemporary Arts, London (2019); and Urban Rhapsodies, Film Society of Lincoln Center, New York (2017). Her work has been shown at Berwick Film & Media Arts Festival, and the International Short Film Festival Oberhausen, among others.