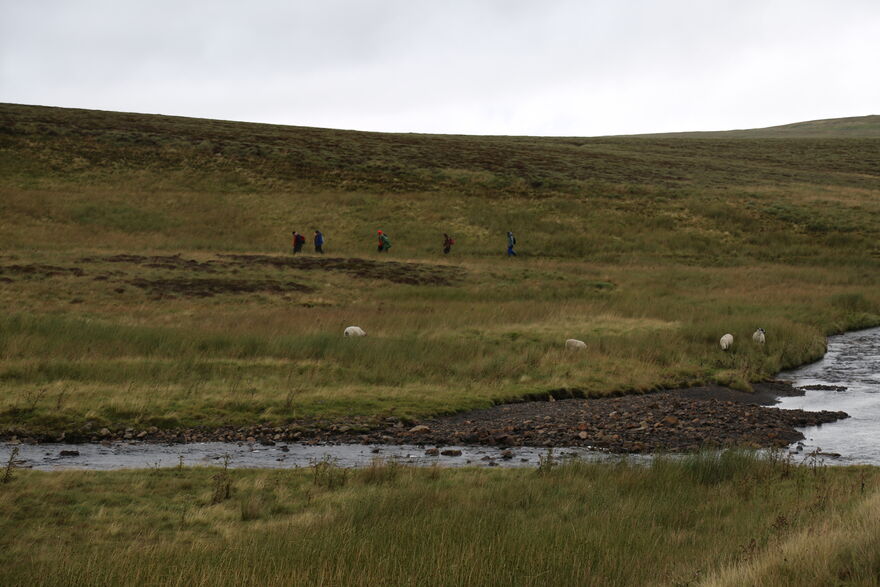 From above, from below, upwards, downwards, sink, stumble, creep, flop and leap: a journey to the peatlands of Upper Teesdale and the North Pennines.

Artist Laura Harrington invites you to join her on a journey to the peatlands of the North Pennines and Moor House – Upper Teesdale National Nature Reserve to consider multiple perspectives and relationships of these ambiguous, overlooked and environmentally important landscapes. Joined by guest speakers including Martin Furness from Natural England, ecologist John O'Reilly and local farmer/poet Josephine Dickinson.
The day will culminate with a moment of sharing, warming food and conversations with curator Camila Marambio (online) and artist Gill Germain at her home of over twenty-five years within the fells above Allenheads. Together we will consider our relationships and responsibilities to these landscapes and how artists, local people and conservationists are seeking to reimagine an alternative future for peatlands with more lively and inclusive possibilities.
This event is supported by The North Pennines AONB Partnership with additional support from Natural England.
Bog Rests (Laying Low) is a series of events and field-trips conceived by Laura Harrington, which draws together artists, curators, scientists and conservationists in consideration of peatlands, artists' fieldwork methods, place-based practice and ideas of 'unknowing-knowing'.
Biographies
Laura Harrington is an artist and researcher who makes work that considers the complex relations between humans and landscapes, often through fieldwork, cross-disciplinary research and collaborative working. Using a variety of methods and media, including filmmaking, installation, drawing, fieldwork and listening, Harrington's practice centres on 'upstream consciousness', a framework that connects rivers, peatlands and other upland ecologies to global currents.
Martin Furness is Natural England's Senior Reserve Manager for Moor House-Upper Teesdale National Nature Reserve. "I've have been working at Moor House for over 22 years and been associated with it since childhood when I stayed there as the then Warden was a family friend and the Research Station was in its heyday. It is a place once visited it is never forgotten and has almost mythical status in the world of upland scientific research. I am proud to be playing my part in its management, encouraging others to visit and use it for their work or chosen discipline and its great to be able to share this special place others".
John O'Reilly is a freelance botanist/vegetation ecologist based in the North Pennines. He is interested in all habitats, in particular how plants interact with each other and respond to changes in land management and to wider changes in environment. He has spent many happy hours trying to understand bogs.
Camila Marambio is a letter writing curator who practices mundane magic, delights in telling ancient circular stories and is concerned with more-than-human health. In 2010 she founded the nomadic research program Ensayos on the archipelago of Tierra del Fuego, at the Southernmost tip of Abya Yala. Ensayos brings together artists, scientists, activists, policy makers and local community members to exercise speculative and emergent forms of eco-cultural ethics at the world's end. For the past five years, Ensayistas all over the world have dedicated their love and attention to peatlands.
Josephine Dickinson studied composition with Michael Finnissy and Richard Barrett. She has published four collections of poetry and has collaborated extensively with artists, musicians and writers. Profoundly deaf since childhood, she became totally deaf in 2012.
Gill Germain is a paper cutter who has lived in an isolated house high on a North Pennine hillside with her family, for over twenty-five years. Since her children have grown, and for the past eight years, she has been drawing with a knife, slowly telling the story of 'This place and my place in it. My feelings for it, my fears for it, my thoughts about and my love for it. This place is just a drop in the ocean of the world, but it is a living breathing essential part of the world's well-being'.
Anne Vibeke Mou is an artist and researcher who finds possibilities in the nature of materials through their elemental transformation into glass. She uses glass composition and diamond point engraving by hand to transmute botanical and mineral elements into objects that weave together histories and ancient landscapes in contemporary contexts. Her recent work explores the North Pennines, above and below ground, through the history of lead glass crystal and its connections to the land around her studio in Garrigill.
Schedule
9am Leave Baltic by minibus
10.40am Arrive Moor House – Upper-Teesdale National Nature Reserve
10.45am Meet Martyn Furness (Natural England)
11.45am Walk with ecologist John O'Reilly
12.45pm Lunch break at Moor House
1.15pm Walk with Josephine Dickinson
2.15pm Leave for Allenheads
3.15pm Arrive Allenheads
3.45pm In conversation between Laura Harrington, Gill Germain and Anne Vibeke Mou
4.45pm Online conversation with Camila Marambio
5.45pm Sharing and food
7pm Leave Allenheads
8pm Arrive Baltic
Access
There is a compost toilet on site, but we will stop on Garrigill before and after where there are facilities, which are open to the public.
If you have any accessibility queries or require accessibility equipment or anything you think we should be aware of, you can let us know when you book your tickets or email us at myexperience@balticmill.com