Holi Festival of Colours, in partnership with GemArts
Saturday 11 March 12-4pm, Free
Join us at Baltic Centre for Contemporary Art for Holi Festival of Colours, hosted in partnership with GemArts.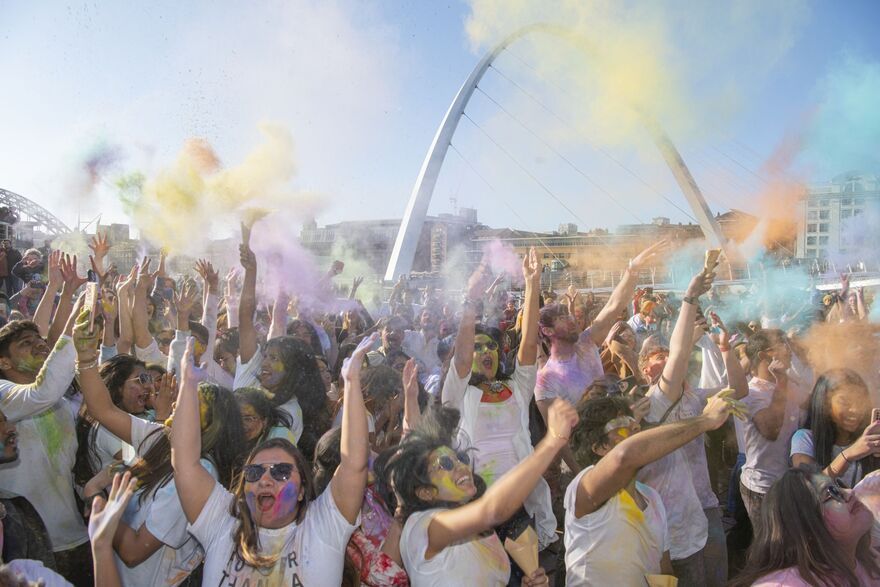 GemArts in partnership with Baltic.
Celebrate colour and the Holi tradition through artist's workshops, dance, music and food., then join in the joyous colour-throwing finale at Baltic in partnership with GemArts.
The day will culminate in colour throwing at 3pm, where we will gather outdoors to throw colourful powder pigment and celebrate the arrival of spring. This bit is fun and messy, so please wear something you don't mind getting dirty. Book your place for the colour throwing finale here.
Holi Festival of Colours, part of GemArts core South Asian celebration programme, connects with Baltic's Neighbourly strand, which asks the question: How can Baltic be a good neighbour to the communities that surround it?
Usually celebrated in March, Holi is a Hindu festival that celebrates spring, love, and new life. This event is for people of any faith and those with none.
Please don't bring backpacks or your own powder pigment with you. Free pigment will be provided at the event. After the event, please don't visit our gallery spaces as we try to keep our exhibitions clear of coloured pigment.
Supported by:
Arts Council England, Gateshead Council, Newcastle Hindu Temple, Chai Events, Spice FM, Newcastle University Tamil and Malayali Society
Event Cancellation
In the event of wet weather, you will be notified that the colour throwing will be cancelled. The indoor based celebrations will continue as usual.
Accessibility
Ahead of your visit, you can find out about Baltic's facilities and accessibility here.