Wed-Sun (Permanent Artworks)
Hidden Artworks
Wednesday - Sunday, 10am - 6pm
Our stairwell houses a selection of artworks not to be missed (especially if you're not a fan of our glass scenic lifts). There are 203 stairs from Ground Floor to Level 5, so plenty of time to look out for these artworks.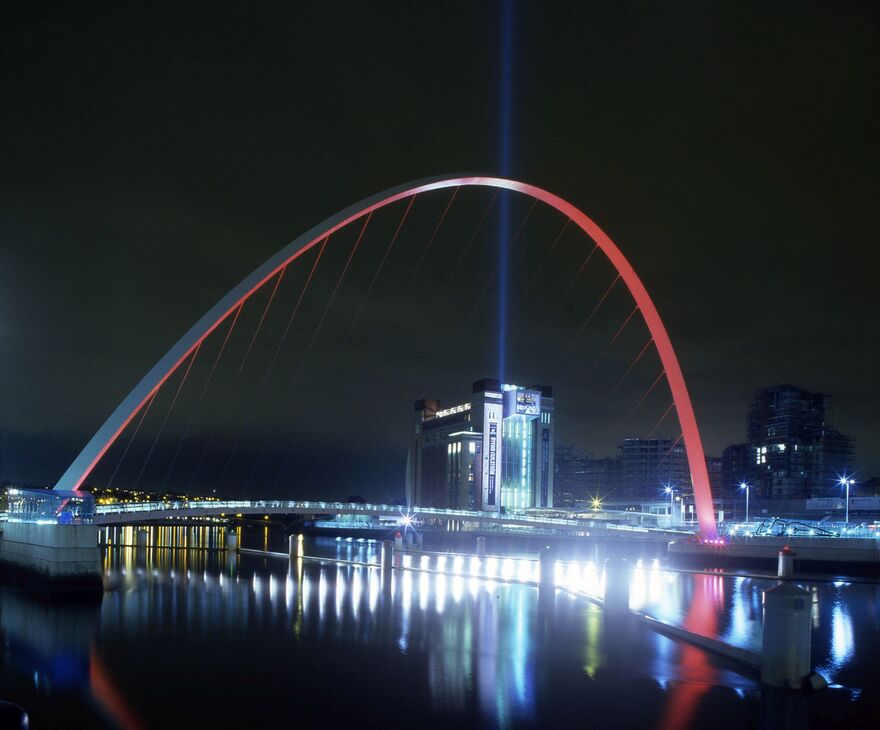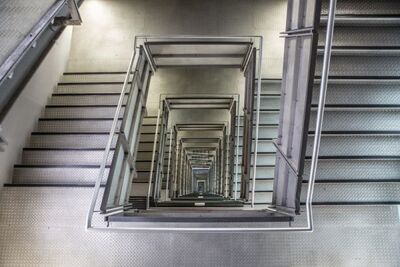 Mark Wallinger:
Heaven and Hell
By placing a mirror at the top and bottom of the stairwell the artist creates an illusion of a never ending staircase. When you walk up or down the stairs and look into the mirrors your journey feels like it is infinite and might go on forever.
A vertiginous stairwell drops 13 landings, a plunge so abrupt you lose all sense of orientation. With the simple addition of a couple of mirrors, one above and one below, Wallinger extends this continuum to infinity.
Laura Cumming, The Guardian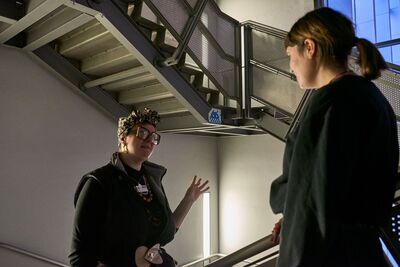 Space Invader
Alongside the mosaics that can be discovered across NewcastleGateshead, we have a Space Invader artwork left behind by the artist Invader.
These are all over the world creating a worldwide 'Space Invader Treasure Hunt'. As well as the public one on the stairwell, we also have one hidden away in a private area, that can be discovered on a behind-the-scenes tour or by speaking to a member of Baltic Crew.
Other areas locally you can find a Space Invader
Eldon Lane, Newcastle
Central Bus Station Pillar, Pilgrim Street
Pink Lane, Newcastle
Bright yellow tiles with a black outline feature on a bridge support
High Bridge, Newcastle
Corner of Pudding Chare, off the Bigg Market, Newcastle.
Northumberland Street, Newcastle
Near Grey's Monument, Newcastle
Newcastle Quayside
Gateshead Central Metro Station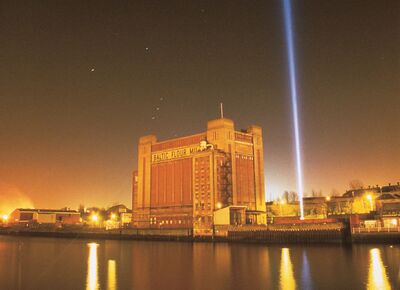 Jaume Plensa:
Blake in Gateshead (2002)
Blake in Gateshead (2002) has a powerful light beam at its centre which when lit, reaches two thousand metres into the sky.
Walking near the Tyne and thinking of Blake, I thought a new bridge was needed, a vertical bridge to bring us towards another kind of landscape. That landscape is above our heads and underneath our feet and maybe because it is too close or too far it is unattainable.
To build a bridge, a bridge of light in Gateshead, near the Tyne and thinking of Blake.
Jaume Plensa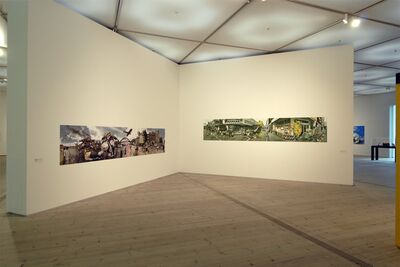 Kozyndan
A painting by Kozyndan can be found in Baltic's Archive. Originally painted on a wall, it was cut out of the plaster and rehung safely when the original wall was redecorated.
LA based husband and wife team Kozue and Dan Kitchens work together as Kozyndan, creating beautifully detailed drawings and illustrations, editions, prints and posters. Best known for their popular bunny series their work is both playful and whimsical. They exhibited at Baltic in 2006 as part of the well received group show, Spank the Monkey.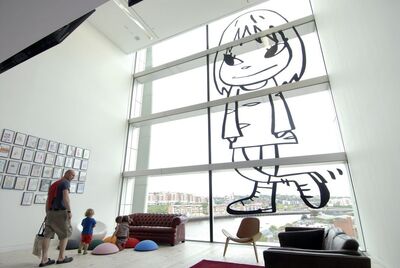 Yoshitomo Nara
In 2008 Baltic presented A-Z Project with artist Yoshitomo Nara and design unit graf. The exhibition featured a village brought to life with Nara's iconic characters, turning ordinary life into art. Yoshitomo Nara's work embodies a defiant spirit that comes with youthful optimism and belief that we can change the world.
In celebration of Baltic's 5th Birthday in 2007, Nara produced a new series of site specific large scaled drawings in vinyl to help launch the gallery's Learning area.