Now Open
Level 2
Jala Wahid
Conflagration
22 Oct 2022 – 30 Apr 2023
Bringing together sculpture, video, sound and text, Jala Wahid's work highlights the ways in which global and interregional politics have shaped Kurdish identity.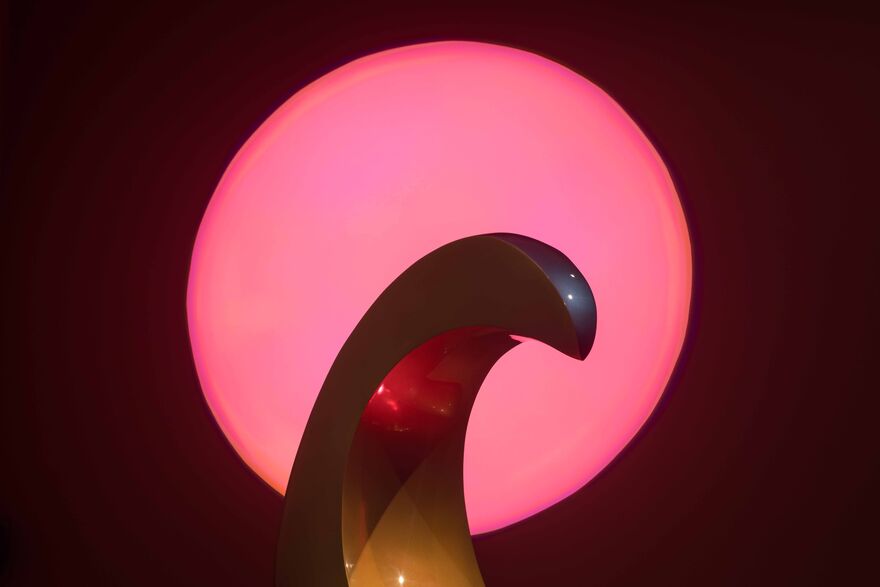 Her innovative practice explores this at the intersection of fiction and reality and touches on urgent issues in relation to nationhood, diasporic living and migration, intergenerational connections and cultural manifestations. Jala Wahid's solo show at Baltic is her first institutional exhibition and major new commission.

Wahid works with sculpture, film, sound, writing and installation. She is interested in the emotive potential of archives, music, literature, dance, theatre and fashion, to reveal the poetics and performativity of politics, whilst articulating the global and interregional politics that shape Kurdish identity. She considers how politics and poetic expression interweave and looks to embody this intertwining, exploring the urgency, defiance, euphoria and violence and suggesting ways of being that belie essentialist definitions of identity. Her recent work is rooted in the London Kurdish Cultural Centre's archive. She sees drawing on a community archive as a way of going beyond binary understandings of colonialism, instead, articulating the problematics of nationalism within a stateless people.
The exhibition presents a new body of work exploring the relationship between Britain and Kurdistan, through the lens of oil. Titled Conflagration, the project begins with the discovery of the Baba Gurgur oil well following a time during which Britain and France politically occupied Mesopotamia, culminating in the formation of new nation states and monopoly in the region's oil resources. The project approaches oil as the symbolic material through which nationalism, statelessness, colonialism and Kurdish identity are explored.

Baba Gurgur is situated in the Kirkuk province, a contentious region disputed between Federal Iraqi and the Kurdistan Region. This history and current politics will be explored through a sound work created from newly written text, archival material found in the National Archives and British Petroleum archive. Wahid will collaborate with Amal Saeed Kurda, a well-known contemporary Kurdish singer/composer, to produce a funereal maqam, melodically Kurdish but lyrically English. The sound work will include other elements of sound design, such as industrial machinery alluding to altered landscapes in the wake of the oil industry.
Conflagration centres around a single sculpture of the Salvia Spinosa flower, which is endemic to the region. Wahid presents it as the embodiment of the Baba Gurgur gusher when it was first struck in 1927. Baba Gurgur has been naturally burning for 4,000 years and its mythological and symbolic cultural history will also be explored. The Salvia Spinosa flower exists in abundance and is the only species of flora to be specifically described as 'growing on shale rocks in-between oil wells at Baba Gurgur'. A new-to-science species of the Salvia plant was recently discovered in Kurdistan. The parallel of discovery of oil, flora and identity is important for Wahid. What makes discovery symbolic and what are its implications? At what or whose expense? In producing a single sculpture Wahid aims to play into the idea of monument.
Supported by
FOUNDATION FOUNDATION
with additional support from Niru Ratnam Gallery and Sophie Tappeiner Gallery.
Exhibition Accessibility
Our friendly and knowledgeable Baltic Crew team can interpret the artworks and help bring meaning and understanding to the exhibition.
Sound or light levels – can be adjusted.
Folding seats – ask Baltic Crew or pick up a stool from the racks.
Free exhibition tours - chat to Baltic Crew to find out when the next tour takes place.
For our full building accessibility and facilities information visit here