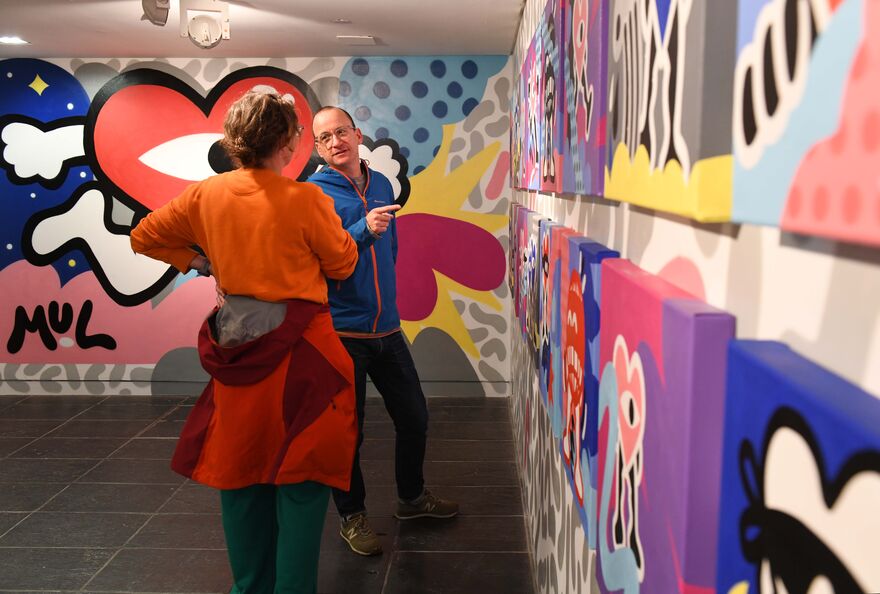 Join us and shop original artwork, prints, and exclusive merch from one of Newcastle's most prolific street artists. The scope of works on sale will grow and change throughout the store's run as works are bought and new ones are added, so you can keep coming back for more and expand your colourful collection.
The pop-up is in our foyer, just to the right of the Hello Desk as you enter through our front doors.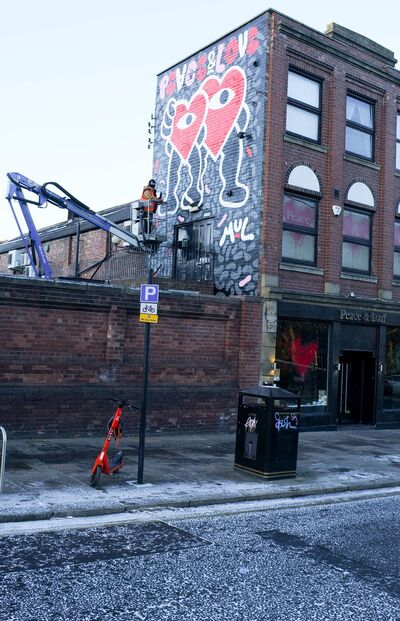 About Mul
Alex Mulholland, otherwise known as Mul is an Artist and Creative Director from Newcastle upon Tyne. Mul is best known for his large scale outdoor murals often including his well known Running Heart character. His popularity has grown since lockdown 2020 from his spontaneous, head turning and vibrant style that unites the universal appeal of cartoon with the raw energy of Street Art. He often relates his artwork to uplifting music as his main inspiration and has coined his artwork as 'Disco Style'.

After starting off painting shop shutters in Heaton with his iconic designs, Mul has spread his work across the City and further afield with pieces across the Uk and European Cities such as Rome, Berlin and Amsterdam. Painting in other cities has opened doors to new audiences as well as meeting likeminded people and developing his style of work. Colour has always been an important element of the work, creating vibrant contrasts alongside references to popular culture makes Mul's work stand out in the urban environment whilst transforming often mundane or run-down locations.

As well as developing his own brand, Mul has most recently taken over renowned Newcastle-based brand Electrik Sheep as Creative Director. For those who are not familiar, Electrik Sheep was established in 2005 and was a beacon in the North East for design, culture and urban art. As well as the Spank the Monkey show at The Baltic in 2006, The Electrik Sheep store on Pink Lane was one of Mul's first insights to the world of street art and it was a truly golden time in the City for the art form.