Ground Floor
Jill Tate:
Peripheral Visions
Wednesday 19 July - 15 November 2023
Visit this Lightbox artwork in the foyer, opposite Baltic Shop until 15 November 2023.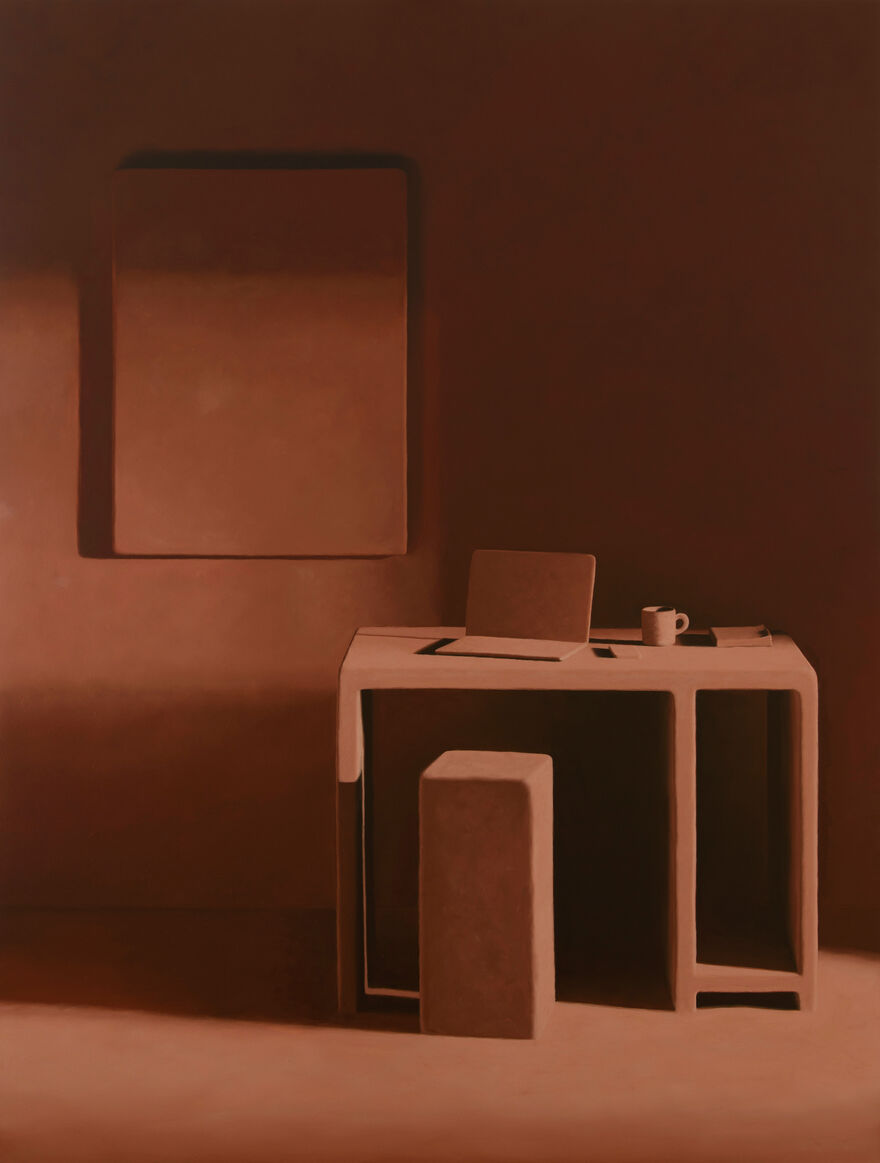 Peripheral Visions
Jill Tate's paintings of simplified architectural scenes are based on scale models she has constructed and photographed. She is interested in our experience of home and its existence at different levels, such as the mind, the houses we inhabit and our shared planet. Using natural, warm colours and evoking the softened geometry of raw earth buildings, her monochromatic paintings dig down to the underlying unity at the root of all things, contemplating the physical and psychological structures that surround and shape us. Light plays a crucial role in her work, illuminating form and offering hope through the darkness.
For the Baltic Lightbox commission, Tate has merged recent paintings to make a new, large-scale work, Peripheral Visions. This larger scale transforms Tate's original 1/6th scale model scenes into a near life-size representation, immersing the viewer in her familiar terracotta colour, which is expanded further by the rust coloured steel of the surrounding Baltic walls.
The title, Peripheral Visions, also references the location of the lightbox within a transitional space at the threshold to the gallery building, one that is usually passed through unnoticed. Peripheral Visions offers a chance to pause and reflect on subtler aspects of ourselves and the world around us that might otherwise pass us by.
Artist's Bio
Jill Tate (b. 1983) lives and works in Newcastle upon Tyne, UK. She received a 1st Class BA (Hons) in Contemporary Photographic Practice from Northumbria University in 2005.
In 2021 Jill was awarded an Arts Council National Lottery Project Grant for Degrees of Freedom, followed by a DYCP grant for Groundwork in 2022. She has recently exhibited at The Sunday Painter, London; Galerie Marguo, Paris; OHSH Projects, London; Unit 1 Gallery, London; and BALTIC Gateshead. Jill is currently enrolled on the Turps Correspondence