Project Art Works & Baltic ready Residential exhibition
Project Art Works and Baltic present celebratory exhibition of over fifty archival works following year-long collaboration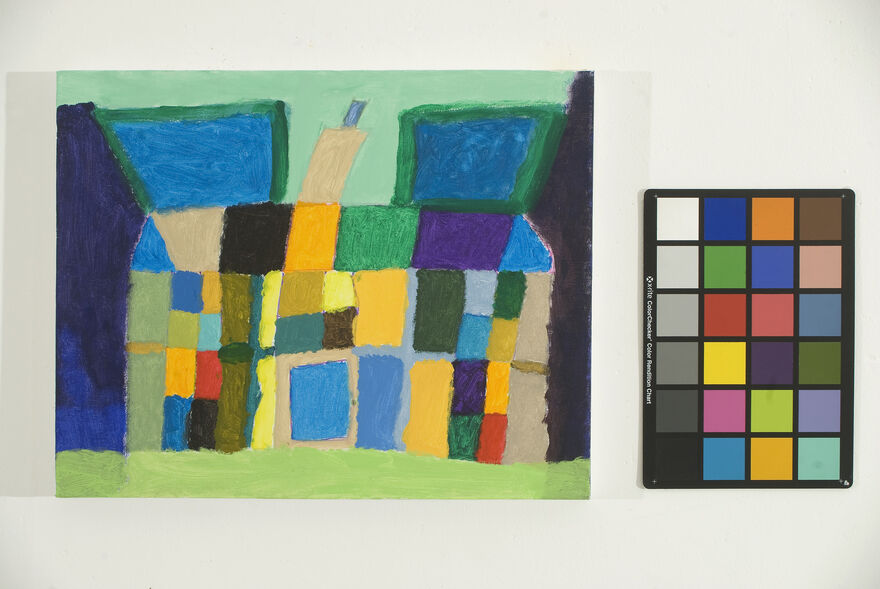 Opening Saturday 23 September, Project Art Works will present Residential, an exhibition developed in collaboration with Baltic Centre for Contemporary Art, Gateshead.

Residential follows a year-long collaborative project of awareness-raising and relationship-building in the North East of England between Project Art Works and Baltic, neurodiverse communities, artists and caregivers. The exhibition in Baltic's Ground Floor gallery presents a new film, and large-scale paintings, drawn from the Project Art Works archive of over five thousand physical works. The installation will be used for a series of collaborative events that bring different people, audiences and artists together in creative production.
Residential forms part of Explorers, a national programme which increases the visibility and presence of neurodivergent artists in contemporary art. Explorers creates pathways for cultural organisations to deepen their understanding and commit to inviting artists and their carers into their spaces as producers and collaborators. Explorers is supported by Arts Council England and Paul Hamlyn Foundation.
Residential will be a vibrant, powerful and celebratory installation of large-scale paintings and spaces for making and verbal and nonverbal conversations. The Project Art Works archive of over five thousand works provides a rich resource, and this exhibition will present over fifty works across Baltic's generous Ground Floor gallery space. A new film by Project Art Works reveals the subtle and expansive nature of speaking and non-speaking communication. Alongside the exhibition, a studio and making area will be used for a series of collaborative interactions that bring different people, audiences and artists together in creative production.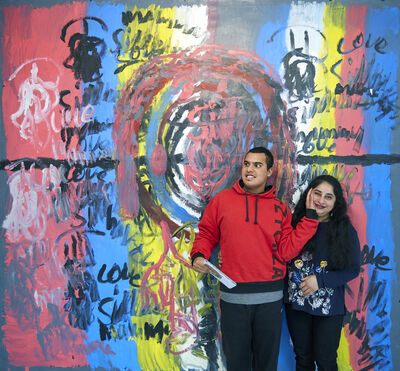 Artists in the exhibition:
Kate Adams, Liam Ash, Aida Ashall, Alison, Connor Ashley, Emily Baines, El Bass, Luke Bebb, Michael Bounds, Sammy Brooks, Paul Colley, Andrew Cooper, Tim Corrigan, Edward Cox-Smith, Oliver Crowther, Natalie Dance, Mark Daniels, Sara Dare, Jack Denness, Dion Downes, Sarah Dunne, Stanley Ellis, Gemma Evans, Amy Fenton, Byron Filnie, Patricia Finnegan, Siddharth Gadiyar, David Geall, Albert Geere, Jo Goldman, Jack Goldsmith, Charlotte Hanlon, Peter Hersey, Toby Hewson, Rachel Hine, Cherry Lane, Lucy Jenion, Neville Jermyn, Annis Joslin, Eden Kötting, Aisha al-Kurd, Thomas Lepora, Lucy, Claire Matthews, Fred Mazzio, David Marriot, Amy McDonald, Leila McMillan, Heidi Nice, Louise Newham, Sean Ormonde, India O'Sullivan, Magda Patza, Johnny Pell, Sharif Persaud, Phoebe, Ellen Prebble, Peter Quinell, Gabby R, Michelle Roberts, Georgie Scott, Carl Sexton, Maya Shapiro Steen, Will Shepherd, Brian Simpkin, George Smith, Sam Smith, Darryl Spencer, Charlotte Stephens, Daniel Wells, Jakob Wright, Sarah T, Katie Taylor, Charlie Thomas, Christopher Tite, Christina Watson, Marion Willis.

Kate Adams, CEO/Artist Director, Project Art Works said:
The immense proportions of the Baltic building and its place on the River Tyne, resonate powerfully with the macro and micro histories of Newcastle and Gateshead. It is a privilege to be working alongside this innovative institution, its communities and neurominorities in the North East. We look forward to realising this long planned collaboration and a new exhibition that further mines our continually evolving archive of powerful works by neurodivergent artists.

Sarah Munro, Director, Baltic commented:
We are delighted to be collaborating on this exhibition with Project Art Works. Their important work with neurodivergent communities and individuals resonates very strongly with Baltic's vision, to deeply root inclusivity and diversity in all our practices and projects. We have enjoyed working with Project Art Works over the past year and look forward to celebrating the extraordinary contribution neurodiverse communities make to art and culture within the exhibition.