Summer Sizzler Weekend offers exhibitions, gaming, talks, tours and chance to buy art in Art Car Boot Fair
Saturday 15 & Sunday 16 July, 10am-6pm

Baltic is pledging to kickstart your summer with an action-packed weekend of exhibitions, gaming, talks, tours and al fresco fun.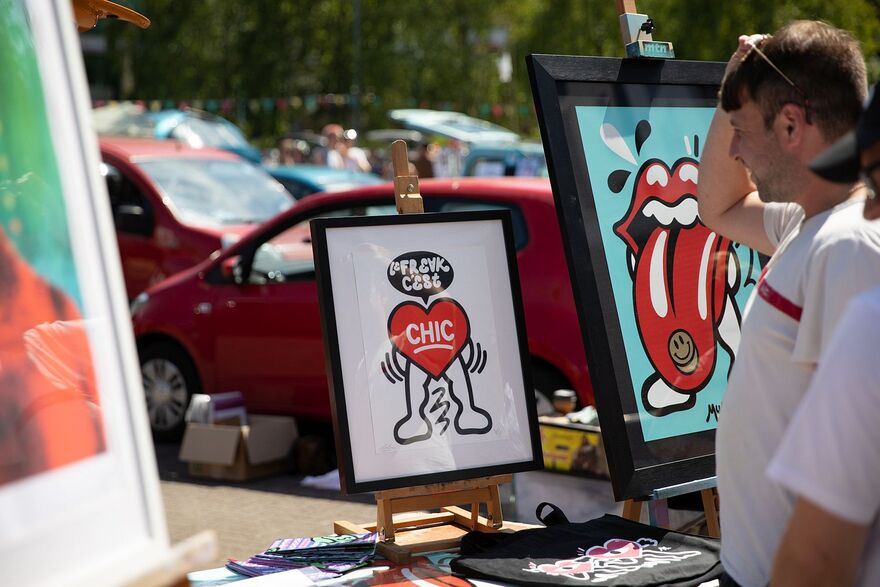 On Saturday 15 July, Baltic are bringing together over 50 artists and makers from across the North and beyond, offering stunning works across painting, ceramic, textiles, digital, and more, in the annual Art Car Boot Fair. Refreshments will come from local Food & Drink vendors and ice cream stalls, chilled music will come from Live DJs soundtracking the weekend vibes.

Following the recent successful takeover of Baltic by street artist Mul (Alec Mulholland) which included a immersive, technicolour and augmented reality defining exhibition, the Mul x Baltic collaboration is back. The North East based street artist, has covered Newcastle, Gateshead and beyond in 'DiscoVibes' murals and motifs that have brought colour, energy and joy to walls, floors and lampposts. The Mul x Baltic Pop-Up Shop will launch on Saturday 15 July. Remaining open all weekend and throughout the summer on Baltic's Ground Floor, exclusive products tipped to be available.
Continue the weekend by exploring Baltic's exhibitions and activities:
> Discover the evolving indoor garden landscape and tea tasting on the opening weekend of major new Level 4 exhibition Michael Rakowitz: The Waiting Gardens of the North.

> Visitors can join free informal and informative tours, led by Baltic's Crew who share insights into the artworks on display and the building itself.

> Find out about Baltic's popular Kittiwake residents (as seen in BBC's Springwatch 2022), in free-to-join talks. The birds are being the furthest inland kittiwake colony in the world.

> On Sunday 16 July, for those into all things comics, manga and illustration there's the drop-in Comic Book Club especially for young people.

> Stop by Baltic's recently refurbished Front Room area, and make positive change in the environment by learning how to grow your own food, garden and appreciate our surrounding nature.

> Enjoy a refreshing drink, lunch or delicious cake in the recently refurbished Baltic Kitchen

Keep updated with the schedule at www.baltic.art/Summer
Full list of Baltic's Art Car Boot Fair (Saturday 15 July) sellers:
Ada Malegowska / Adam Pointer / Alchemi Art /Tittle the Brick / Amy Rutherford Ceramics / Barry Fox / Stix Studio / Bethan Laker Illustration / The Yard & Co. / Astrollogy / Chloe Lewis Jewellery / Bleached Out / Craig Knight Art / World of Eldritch / Studio 9 Ceramics / David Mills Ceramics / Eddy Jessop / Evie Taylor / Faye Greenman Art / Foundation Press / Guada Gomez / HanLynn.Art / Crosby loves Cheese / Harriet Barrow Illustration / ITSPRONOUNCEDZINE / Helen Nicholson Illustration / Irene Campsill Designs / Jane Sanders / A Shop That Sells Art / Jessica Christie / Destruktiv Art / Belta Brownies NCL / Kay carter studio / Laura J Palmer - SideBoob Designs / Of the North Art / Chilli Studios / Lincoln Lightfoot / DEAD GOOD / Lucie In The Sky Prints / Vague Observation Workshop / Nina Weatherburn and Ruari Iain MacNeil / Qi fang Colbert / Rebecca Ridley Ceramics / ROOB / Inky Makes / Sally Anderson / Sam Judge / Inky Print Designs / Seymour Mace / Sharon & Martin Gollan / Sofia Barton Illustration / Stephen Buckley Art / Skullbag / Yvette Earl Illustration / Zoe Cotterill Art