Baltic awarded Gallery of Sanctuary status
Ever since it opened, people have found sanctuary at Baltic. Now, in its twentieth anniversary year, that aspect of its work and appeal has been recognised. David Whetstone finds out about a cause for celebration on the Gateshead bank of the Tyne.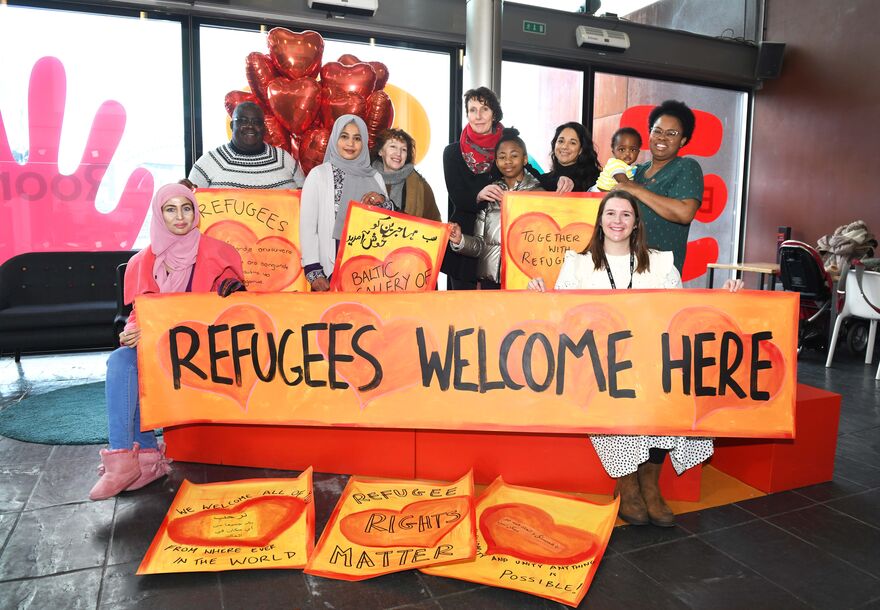 Gathered in the ground floor room which used to be a café but has been re-styled Baltic Front Room - "a space for congregation, creativity and celebration" - are people of various ethnicities.
It's like the United Nations in microcosm, though one with a happy face.
Amid the cheerful hubbub there is cake. Jolly banners, made with the help of artist Theresa Easton, are reminders of where we are.
Baltic turns 20 this summer and the Gallery of Sanctuary designation is a significant accolade in its anniversary year.
"It brings to the forefront our ongoing commitment to welcoming and supporting sanctuary seekers," says Sarah Munro, director since 2015.
City of Sanctuary UK began in Sheffield in 2005, a move to counter a mood of hostility. By working with individuals, groups and organisations in every area and sector, the charity aspired to encourage inclusivity and compassion.
Two years later Sheffield became the country's first City of Sanctuary, but it wasn't alone for long.
The idea caught on and since then hundreds of councils, schools, universities, libraries, theatres and others have been awarded Sanctuary status, pledging to uphold the charity's principles.
Now, for the first time in England, an art gallery joins the list.
Confirming the news, Sian Summer Rees, chief officer of City of Sanctuary UK, said:
We all have a part to play in building a more welcoming, inclusive and compassionate society. Baltic are going above and beyond. Their work breaks down barriers and brings communities together. We are over the moon that this phenomenal gallery has joined the City of Sanctuary network.
In Baltic Front Room, Grace and her children seem at home, as well they might. They are Baltic regulars, drawn to the activities organised as part of its Neighbourly strand.
Grace laughs. Basically, going out for us is the Baltic. Sarah (her nine-year-old) is very familiar with it. 'Mummy, are we going out?' she says. 'Are we going to Baltic?' We love coming here.
Grace and her family came to the UK from Namibia to escape what she calls a culture of abuse. It has left her, she says, with some mental health issues.
After arriving in London, they were sent briefly to Birmingham and then to Newcastle, a city neither she nor her husband knew at all.
Currently they are in the kind of limbo experienced by all asylum seekers whose cases remain unresolved, unable to seek paid work and with uncertainty hanging over them.
Soon they will have been on Tyneside for three years but Grace says she would like to stay if asylum is granted.
"It is the only place I know. But I'm the sort of person who, when I'm into something, sticks in there. People are friendly and I feel safe, and I love it that there is a beach. I love the seaside."
Reflecting on the early days, she says a "very good hearted" woman from Newcastle City Council – Karen Harrison, asylum support liaison officer - helped them, providing information and getting Sarah settled in school.
Fluent in four languages, Grace helped to disseminate Covid-19 information during the pandemic and assists the council with its work helping sanctuary seekers (Newcastle having joined Sheffield as a City of Sanctuary in 2013).
She also sits on the panel that assesses new Sanctuary applications.
Introduced to Baltic after the birth of her son, Gambu, last February, she signed up for its anniversary 20 Babies project and has attended regularly ever since.
"I was at home, bored. I didn't have other mummy friends and coming here helped me a lot with my mental health issues.
"When I was here they introduced me to the language café.
"Twenty Babies is more for the baby, developing his imagination. They have soft play and they paint and sing. It's fun for them and the mummies. It's a chance to get out of the house."
Baltic's Neighbourly activities enable Grace and others to socialise and share advice.
"I like meeting people," says Grace. "When I meet someone interesting, I dive in and get to know them. There's a language barrier with some of us but it doesn't matter."
In Namibia Grace aspired to be an accountant. She hopes to resume her studies one day. For the moment, inevitably, money is tight – "so little that we just buy food" – but Baltic offers consolation.
"I'm not an artist but I love learning new things," says Grace.
"I like colours, I like shapes and it's never boring here. It's fun and colourful."
After hollering vainly for attention, Gambu, with a mischievous twinkle, bashes his mother's phone with a tiny fist. It works. Sarah is summoned and whisks him away for a tour of the room.
Annie Bedford, Baltic's communities producer, has run the Neighbourly programme since it was set up three years ago.
We work with refugee support organisations including the West End Refugee Service, the Comfrey Project, JET (a charity which helps with language skills) and the Gateshead resettlement team," she says. What guides the work is thinking about what somebody who's been forced to leave their home and is trying to reconstruct their life in the North East would need to feel at home here. Some of that is practical – language learning, opportunities to socialise or volunteer, opportunities to practice your faith and feel part of a community.
Baltic coordinates a volunteering programme with its partners, matching skills, and hosts community events that explore different cultures.
The Hindu festival of Holi, also known as the Festival of Colours, will be celebrated on March 19 in collaboration with Gateshead-based Gem Arts.
And in April Baltic will stage its second Open Iftar, following its successful first in 2019, when people of all faiths or none can share in the tradition of breaking fast during Ramadan. Wholesome food, talks and discussion are promised.
Baltic hosts visits by students of ESOL (English for Speakers of Other Languages) and organises the monthly language café, a family friendly space for informal learning.
It also runs the International Art Club at Carr Hill Community Primary School, Deckham, an opportunity for sanctuary-seeking children to mix with local youngsters and be creative.
Primarily Baltic is concerned with art.
Annie says, however, that not everyone understands what an art gallery, particularly one like this, can be.
Art comes into every strand we run but being a free public space and a public building is part of our identity. Art is a safe way of exploring culture and identity. I don't need to know why people are here, but art is a way of bringing to the surface people's cultural experiences.
On one occasion, she recalls, people were invited to bring an object that meant a lot. Among the women, wedding dresses – or photos of them - were popular.
"If you have an object, people can volunteer anecdotes if they want to. We also use art a lot in the language café to occupy hands while we're talking.
"Making something together is a bridging mechanism. It encourages conversation. We take quite a broad view of art and creativity so food is also a huge part of what we do. We work a lot with local caterers such as the Samosa Sisters."
All this would happen anyway but Annie says Gallery of Sanctuary status is important because hard won.
"It was incredibly rigorous and certainly not something they just hand out. It was an in-depth application form and an interview with a panel including people with lived experience of the asylum system.
"And they can take it off you. I like that they can hold you accountable. We wouldn't have this if we couldn't have demonstrated that the work is embedded.
"It's in the business plan, it's core funded and the director is behind it."
She adds that "a mainstream organisation like Baltic joining the narrative about refugees being welcome helps to make it less of a niche issue".
Asked about the nationalities represented at Neighbourly events, she reels off a list: "Zambia, Albania, Ecuador, Turkey, Russia, Sri Lanka..."
It goes on and in many respects it echoes the list of international artists whose work has been seen here since 2002.
Baltic is and has always been a giant melting pot and never, since the day it opened, has it lacked an audience. Now, officially, it is a place of sanctuary.