A Visual Story:
Conflagration
Find out what to expect when visiting Jala Wahid: Conflagration with this Visual Story - a guide with words and pictures. It is sometimes called a Social Narrative.
This exhibition is open Wednesday to Sunday, from 10am to 6pm. You can drop-in for free anytime during our opening hours.
If you have any questions or would like to chat about your visit before coming, you can email us on [javascript protected email address] or call us on 0191 478 1810.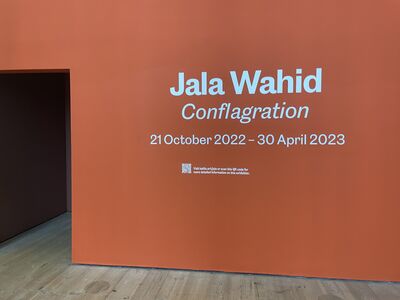 As you approach this exhibition on the Second Floor, you will encounter a large orange wall with the title of this exhibition Jala Wahid: Conflagration.
At the bottom of this text is a QR code that you can scan to view detailed information about the exhibition digitally on your device if you would like to.
As you enter the gallery, there is text on the wall in front of you that provides more information about the exhibition.
The room is dimly lit and has audio. Please speak to a member of Baltic Crew if adjusting this light or audio would assist your visit.
There will be a Baltic Crew member standing in the gallery, they are there to help and assist you with any questions.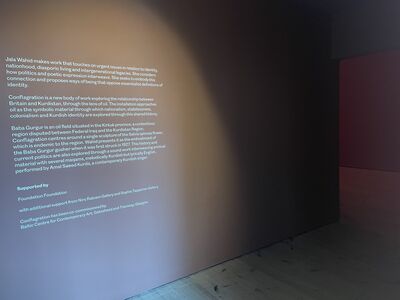 Turning left as you enter the exhibition, there is a large sculpture with a bright pink large circle behind it.
You can travel in any direction around the exhibition.
There are benches available. Feel free to take a seat.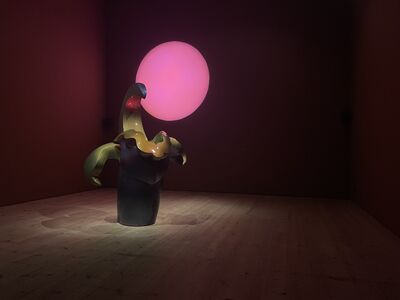 The sculpture is smooth, large and heavily spotlit. The sculpture is of a Salvia spinosa flower.
Please be aware of the barrier around the sculpture to keep both you and the artwork safe.
Please do not touch the artwork, it is extremely delicate.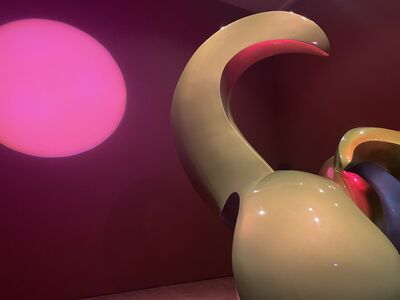 The large pink circle behind is a light sculpture and reminiscent of the sun.
There is an audio piece that accompanies this exhibition. It is a combination of melodic singing, stories and sounds.
The audio is 55 minutes long. You can leave at any time.
Please speak to a member of Baltic Crew if adjusting the lights or volume would assist your visit.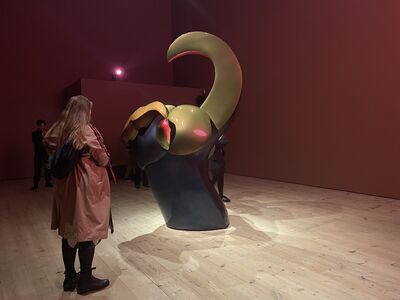 Once you are ready to leave this gallery, head back and exit the same way you entered.
Please be aware, due to the open windows, it may be appear bright as you exit the space.