A Visual Story:
Hinterlands
Find out what to expect when visiting Hinterlands with this Visual Story guide - a guide with words and pictures. It is sometimes called a Social Narrative.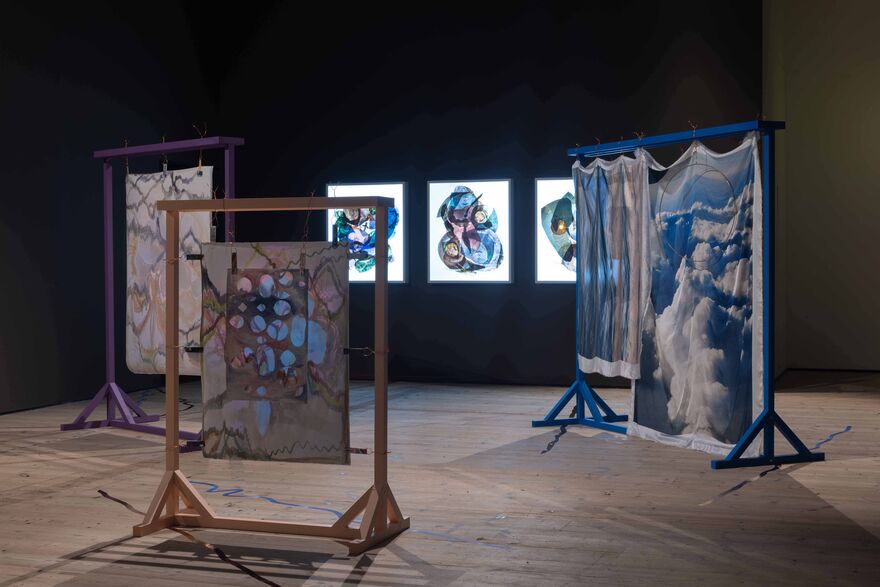 This exhibition is open Wednesday to Sunday, from 10am to 6pm. You can drop-in for free anytime during our opening hours.
If you have any questions or would like to chat about your visit before coming, you can email us on [javascript protected email address] or call us on 0191 478 1810.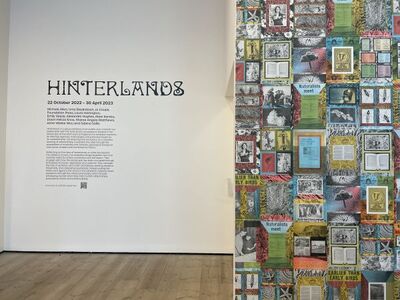 As you approach this exhibition on the Third Floor, you will encounter a large wall covered in what might look like book or magazine pages.
To the left is the title of this exhibition 'Hinterlands' and below it some more information about the exhibition inside.
Hinterlands is a group exhibition that explores our relationship with the land and its ecosystems. There are 12 artists' work in this exhibition.
At the bottom of this text is a QR code that you can scan and download the gallery guide digitally on your device if you would like to.
As you enter the gallery space on the left are exhibition guides, and Large print guides. Feel free to take one of these for more information about the artworks inside.
There will be a Baltic Crew member standing in the gallery, they are there to help and assist you with any questions.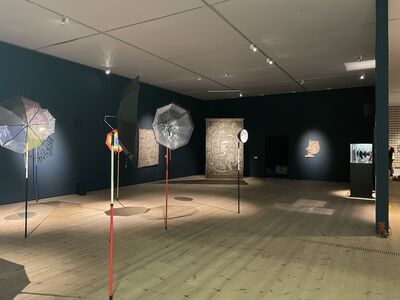 As you enter the exhibition, the space is divided into two.
The lighting is dimmed throughout. Please speak to a member of crew if adjusting the spotlights would assist your visit.
The left section has dark blue walls with upturned umbrellas on sticks, and on the right you'll notice a large structure with hanging baskets and dried plants.
You can travel in any direction around the exhibition.
There are sculptures, artworks on the wall, items in glass cabinets and hanging fabrics. Please do not touch the artworks.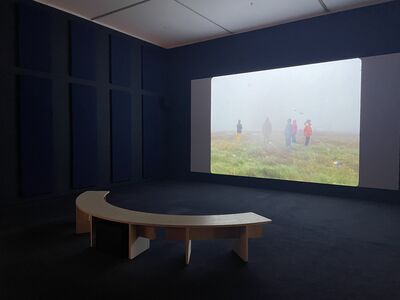 The next room is carpetted and there is a film playing.
Feel free to take a seat. You can leave at any time.
Behind you there are artworks hanging on the wall.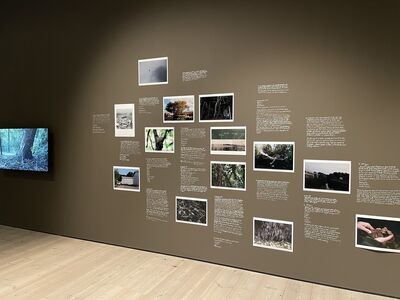 As you enter the next space of the exhibition there are lightbox artworks on the left, and hanging fabrics in front of you.
Take care when moving around these artworks. The fabric will sway slightly with the movement of people around it.
There are artefacts in glass covered plinths, hanging fabrics, a film screen, images and writing on the wall.
There is a typed out version of the hand-written wall text. Please speak to a member of crew for a copy of this.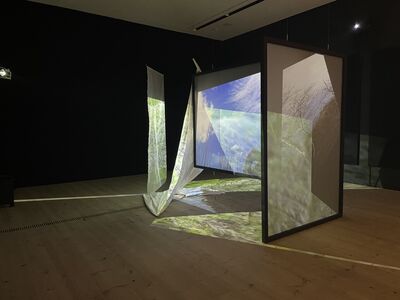 Towards the very rear of the room is a hanging flag with projection and audio. Take care when moving around this artwork.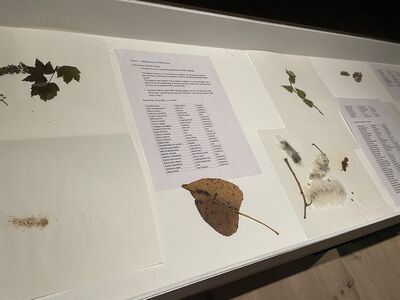 There are multiple items in glass cabinets. Please do not touch.
Take care when moving around these cabinets.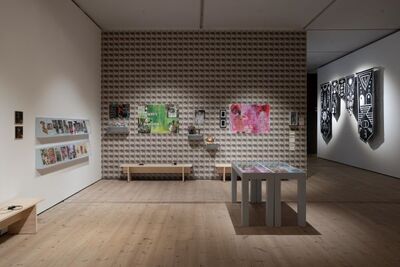 As you travel towards the next room there are benches available. Please feel free to take a seat.
There are headphones playing an audio artwork. Feel free to wear the headphones and experience this artwork.
Above the benches the wall is covered in wallpaper with artworks pinned to the wall at various heights. Please be aware there are low shelves displaying household objects such as a teapot and photo frames.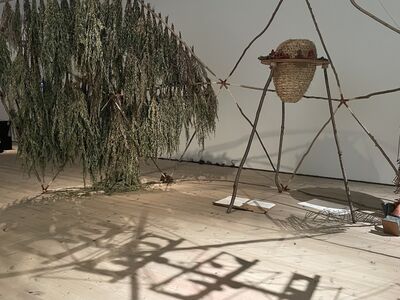 There is a TV screen with chairs. Here it is okay to touch the computer mouse to experience the artwork.
There are number of objects such as stones, twigs, dried plants and honeycomb on the edges and corners of this room. Please do not touch or remove these.
There is a large structure made out of branches. Take care when approaching this structure.
There are many objects in, on and around this structure including baskets, symbols, dried plants and jars. Please take care around these objects.
Feel free to walk through the structure.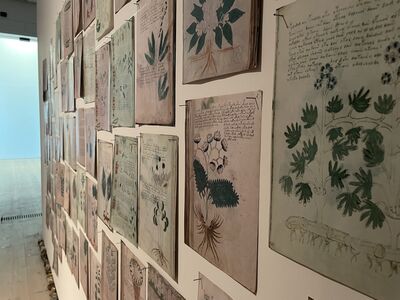 Once you are ready to leave this gallery, head back and exit the same way you entered.